108TH ARTILLERY GROUP Vietnam War
Distinctive Unit Insignia
Distinctive Insignia Symbolism The colors scarlet and gold are for Artillery. The black roundel, representing a gunstone, and the scarlet lightning flash refer to Artillery fire. The upper end of the flash symbolizes the unit's air defense and anti-aircraft heritage; the saltire is for strength. The gold lion's face is taken from the arms of Normandy and stands for the unit's initial combat service in the campaign for Normandy in World War II. The bamboo shoot and the colors green, gold and scarlet allude to service in Vietnam.
Image credits: Institute of Heraldry Department of the Army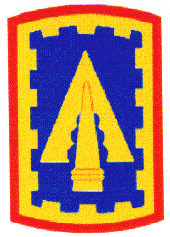 Shoulder Sleeve Insignia
Shoulder Sleeve Insignia Symbolism Scarlet and yellow are the colors traditionally associated with Air Defense Artillery. The crenellated configuration of the border indicates a strong defensive position. The blue center symbolizes the sky and the pheon alludes to the unit's striking capabilities; thus, the design elements embody the unit's mission. They also refer to the unit's location, Kaiserslautern, Germany, which derives its name from a local stream (the blue area) and a castle built on the site in the 12th Century (the crenellated border).
108th Artillery Group (Field Artillery) "Deeds Above Words" 28 October 1967 - 23 November 1971 The following artillery battalions served at one time or another under 108th Artillery Group control:
8th Battalion, 4th Artillery
1st Battalion, 44th Artillery
6th Battalion, 33rd Artillery
1st Battalion, 83rd Artillery
1st Battalion, 39th Artillery
2nd Battalion, 94th Artillery
1st Battalion, 40th Artillery
B Battery, 8/4th Artillery Direct fire from LZ Vander Grift November 1970 - Photo: Ed Oleyn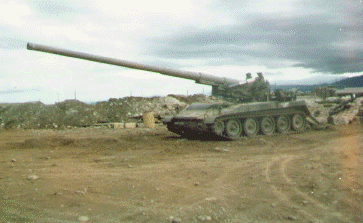 "Green Weenie" FSB J.J. CARROLL - 1970 Photo: Bob Webster A Btry, 8/4th Artillery
INDEX OF PAGES FIRST FIELD FORCE VIETNAM ARTILLERY SECOND FIELD FORCE VIETNAM ARTILLERY XXIV Corps Artillery 23rd Artillery Group 41st Artillery Group 52nd Artillery Group 54th Artillery Group 97th Artillery Group 108th Artillery Group Complete list of Vietnam Artillery Units