23D ARTILLERY GROUP
Vietnam War
Image credit: Institute of Heraldry
Department of the Army

Distinctive Badge Symbolism
The lion, suggested by the arms of Normandy, alludes to the unit's battle honors in Normandy, Northern France, Rhineland, Ardennes-Alsace, and Central Europe during WW2. The grouped javelin heads on target also allude to the unit's motto and symbolize the firing of the 175mm self-propelled guns on 19 November 1965 in Vietnam, the first time ever fired in combat. The red (scarlet) background alludes to the Meritorious Unit Commendation (Vietnam) Award. The javelin heads, TWO at the top and THREE in base, further identify the numerical designation of the organization.

Meritorious Unit Commendation
The Meritorious Unit Commendation is awarded to units for exceptionally meritorious conduct in performance of outstanding services for at least six continuous months during the period of military operations against an armed enemy occurring on or after 1 January 1944.



23rd Artillery Group (Field Artillery)
"Steel On Target"
16 November 1965 - 28 January 1972
The following artillery battalions served at one time or another under 23rd Artillery Group control:
5th Battalion, 2nd Artillery
1st Battalion, 27th Artillery
7th Battalion, 8th Artillery
6th Battalion, 27th Artillery
7th Battalion, 9th Artillery
2nd Battalion, 32nd Artillery
2nd Battalion, 11th Artillery
2nd Battalion, 35th Artillery
2nd Battalion, 12th Artillery
5th Battalion, 42nd Artillery
2nd Battalion, 13th Artillery
3rd Battalion, 197th Artillery
6th Battalion, 15th Artillery
6/15th Artillery
'DEADLY'
---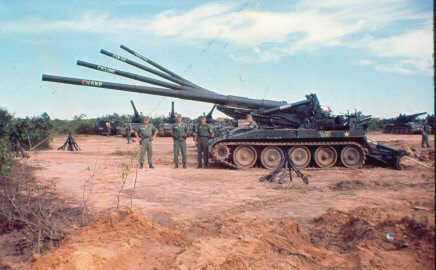 Four 175mm's at 1st Infantry's Saigon University staging area November 18, 1965, when the 2/32d 175mm's arrived in Vietnam. Photo: Bill Van Eck C-2/32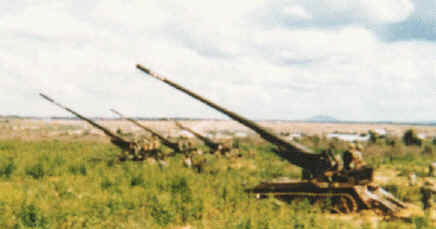 "Can Do" of the 2/32d fires the first 175mm
round in Vietnam, November 19, 1965
at Bien Hoa AFB
Nui Ba Den mountain in background
Photo: Bill Van Eck


First 175mm projectile fired in Vietnam.
Sgt Douglas' 2nd Section
November 19, 1965
Photo: Bill Van Eck
---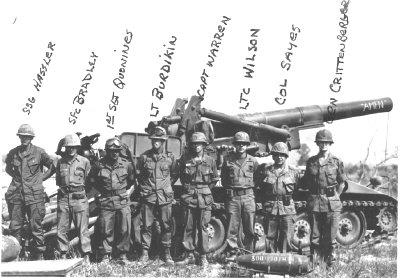 On 12 March 1967, "Proud Americans" 2nd/32nd FA firing their 300,000 round. Gen. Crittenberger did the Honors firing the round, and 'A' Battery gun "AMEN" was the Gun of the Day.
Photo: Ralph Jones
---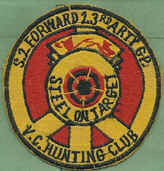 Patch worn by guys in S-2 Forward of the 23rd Artillery Group. The Arty Group aerial observers were responsible for recon missions in III Corps, and also on call to adjust artillery fire or airstrikes on targets of opportunity. They worked with the L-19/0-1 Bird Dog pilots of the 74th Recon Airplane Company based in Phu Loi
Text and Image Credit: Frank Ledford
---

INDEX OF PAGES
FIRST FIELD FORCE VIETNAM ARTILLERY
SECOND FIELD FORCE VIETNAM ARTILLERY
XXIV Corps Artillery
23rd Artillery Group
41st Artillery Group
52nd Artillery Group
54th Artillery Group
97th Artillery Group
108th Artillery Group
Complete list of Vietnam Artillery Units