Scroll of Honor
15th Field Artillery Regiment
WORLD WAR ONE

This Scroll of Honor is dedicated to the memory of those men
of the 15th Field Artillery Regiment who made the supreme
sacrifice for freedom on the field of battle during WW1
See our Memorial to: Oliver Baty Cunningham

Grave Marker for CPT Oliver B. Cunnigham in
the American Cemetery at St. Mihiel, France

| | | |
| --- | --- | --- |
| Rank / Name | Unit | Death |
| SGT Lillard E. Ailor | Btry D | 4-8-1918 |
| CPL Harold N. Bailey | Btry A | 10-18-1918 |
| CPL Edward Besinger | HQs | 10-3-1918 |
| CPL John L. Brindle | Btry E | 10-5-1918 |
| PFC Charles Butler | Btry B | 4-26-1918 |
| CPL Paul T. Butler | Btry F | 7-25-1918 |
| PVT Dasper W. Caldwell | Supply | 10-31-1918 |
| PVT Henry Cumminskey | Btry E | 6-23-1918 |
| CPT Oliver B. Cunningham | HQs | 9-17-1918 |
| PVT Harry G. Dossler | Btry D | 10-31-1918 |
| PVT Perry B. Farmer | Btry F | 11-9-1918 |
| CPL Harry T. Gale | Btry A | 6-22-1918 |
| CPL Bejamin H. Giles | Btry E | 10-5-1918 |
| PVT Henry Helms | HQs | 11-9-1918 |
| PVT Charles E. Higley | Btry B | 11-4-1918 |
| PFC Leroy Hill | Btry A | 6-7-1918 |
| CPL Floyd Ibbotson | Btry D | 6-13-1918 |
| PVT Gerald J. Johnson | Btry E | 10-15-1918 |
| PFC Blaz Kapich | Btry D | 6-28-1918 |
| PVT Arthur Kennedy | Btry E | 6-23-1918 |
| PVT Carl L. Kirchdorfer | Btry F | 10-4-1918 |
| PVT Noble J. Lax | Btry F | 10-6-1918 |
| PFC Alva C. Lewin | Btry B | 10-4-1918 |
| PFC Harry L. McBride | HQs | 7-21-1918 |
| PFC Roy McClane | Btry F | 6-25-1918 |
| PVT Leonard March | Btry A | 10-7-1918 |
| PVT Earl W. Mountain | Btry E | 5-3-1918 |
| PVT David A. Paul | Btry E | 6-8-1918 |
| PVT Joseph Pecheca | Btry D | 6-13-1918 |
| CPL Harry Peters | Btry B | 6-24-1918 |
| CPL Edward D. Prichard | Btry A | 6-19-1918 |
| PVT Edward W. Pryor | Btry B | 11-3-1918 |
| PVT Reuben W. Radmall | Btry D | 10-6-1918 |
| PVT Leonhard W Ripton | Btry F | 4-7-1918 |
| PFC Roland P. Roeder | Btry E | 10-13-1918 |
| PFC Roy Martin | Btry C | 10-4-1918 |
| PVT Eugene C. Royee | Btry D | 10-7-1918 |
| PFC William H. Setser | Btry F | 10-15-1918 |
| CPL Bonnie M. Sloan | Btry D | 6-24-1918 |
| PVT Harry St. Clair | Btry D | 6-24-1918 |
| PVT Isaac W. Stephens | Btry E | 10-3-1918 |
| Bugler Hardin E. Stone | Btry F | 7-19-1918 |
| PFC Samuel Weinberg | HQs | 11-1-1918 |
Compiled by Dan Gillotti, 15th Historian
---
In memory of
Oliver Baty Cunningham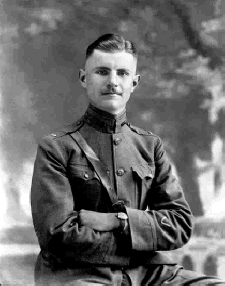 Pictured above is Captain (then 1LT) Oliver Baty Cunningham, the only officer of the 15th Field Artillery Regiment to be Killed In Action during WW-I. Captain Cunningham was serving as a Forward Observer near the Town of Jaulny, France, and was exposed to heavy enemy Artillery Fire when he was struck and killed on 17 September 1918 (his 24th Birthday).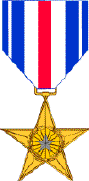 For his brave actions in combat he was awarded both the Distinguished Service Cross (DSC) and the Silver Star Medal (Posthumously). He was buried with military honors at a lonely crossroads near the scene of his death. Later his body was taken to the American National Cemetery on the edge of the Town of Thiaucourt. In the parish church at Thiaucourt a special set of chimes (bells) were dedicated in his memory on May 30th 1920, American Memorial Day.


Translation by:
Christopher Mahoney
"The bells of this church are dedicated to the glory of God in remembering Captain Oliver Baty Cunningham.
15 Artillery, 2nd Division of the American Expeditionary Force who gave his life for his country and for France.
Captain Cunningham was born in Chicago, Illinois, USA, September 17, 1894 and was killed on the battlefield near Jaulny, France on September 17, 1918."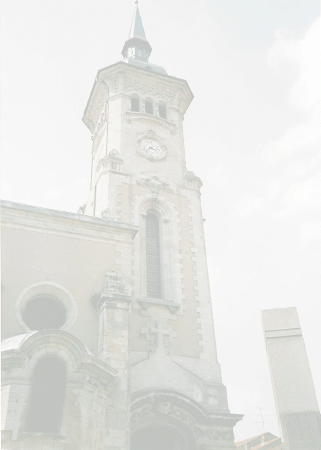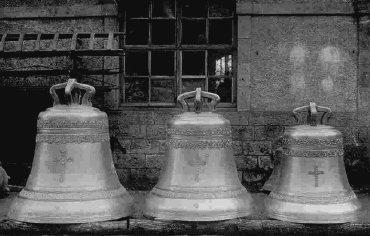 ---
"In Memory of Rupert Brooke"
by Joyce Kilmer
In alien earth, across a troubled sea,
His body lies that was so fair and young.
His mouth is stopped, with half his songs unsung;
His arm is still, that struck to make men free.

But let no cloud of lamentation be
Where, on a warrior's grave, a lyre is hung.
We keep the echoes of his golden tongue,
We keep the vision of his chivalry.

SGT Alfred Joyce Kilmer, who is best known for
his poem "TREES", was killed by a sniper in France
during World War One at the age of 31
---
WW1 LINKS
---