54TH ARTILLERY GROUP
Vietnam War
Image credit: Institute of Heraldry
Department of the Army

Distinctive Badge Symbolism
The colors scarlet and yellow (gold) are for the Artillery. The organization's performance of outstanding service in Vietnam, for which it received a Meritorious Unit Commendation, is commemorated by the leafed gold bamboo stalk bent in a "V" shape. The unit's historic World War I campaign service in Europe is indicated by the fleur-de-lis at the top. The black circular scroll alludes to the mouth of a cannon and the gunner's lanyard is suggested by the unit's motto and the Artillery mission of the Group.

Meritorious Unit Commendation
VIETNAM
The Meritorious Unit Commendation is awarded to units for exceptionally meritorious conduct in performance of outstanding services for at least six continuous months during the period of military operations against an armed enemy occurring on or after 1 January 1944.

54th Artillery Group (Field Artillery)
"Lanyards of Liberty"
1 October 1966 - 7 November 1969
The following artillery battalions served at one time or another under 54th Artillery Group control:
7th Battalion, 8th Artillery
5th Battalion, 42nd Artillery
7th Battalion, 9th Artillery
6th Battalion, 77th Artillery
3rd Battalion, 16th Artillery
1st Battalion, 83rd Artillery
2nd Battalion, 35th Artillery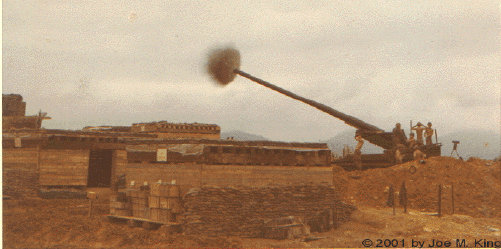 FB Birmingham
3rd gun section - B Btry - 1st Bn, 83d Artillery
4/69 to 10/70 in Thun Thien Hue, I Corps
Photo: Joe M. King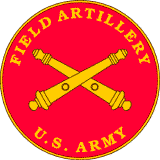 INDEX OF PAGES

FIRST FIELD FORCE VIETNAM ARTILLERY
SECOND FIELD FORCE VIETNAM ARTILLERY
XXIV Corps Artillery

23rd Artillery Group

41st Artillery Group

52nd Artillery Group

54th Artillery Group

97th Artillery Group

108th Artillery Group

Complete list of Vietnam Artillery Units