HAROLD B. DURHAM, JR.
Medal of Honor
(Posthumously)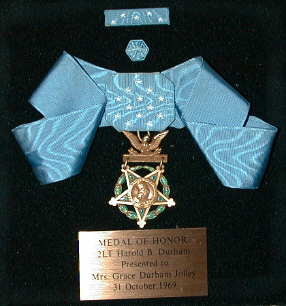 Citation
signed
by
President
Nixon
(click to enlarge)

Battery C, 6th Battalion,
15th Field Artillery
17 October 1967



HAROLD BASCOM DURHAM, JR.
Rank and organization: Second Lieutenant, U.S. Army, Battery C, 6th Battalion, 15th Artillery, 1st Infantry Division.
Place and date: Republic of Vietnam, 17 October 1967.
Entered service at: Atlanta, Ga.
Born: 12 October 1942, Rocky Mount, N.C.
Citation: 2d Lt. Durham, Artillery, distinguished himself by conspicuous gallantry and intrepidity at the cost of his life above and beyond the call of duty while assigned to Battery C. 2d Lt. Durham was serving as a forward observer with Company D, 2d Battalion, 28th Infantry during a battalion reconnaissance-in-force mission. At approximately 1015 hours contact was made with an enemy force concealed in well-camouflaged positions and fortified bunkers. 2d Lt. Durham immediately moved into an exposed position to adjust the supporting artillery fire onto the insurgents. During a brief lull in the battle he administered emergency first aid to the wounded in spite of heavy enemy sniper fire directed toward him. Moments later, as enemy units assaulted friendly positions, he learned that Company A, bearing the brunt of the attack, had lost its forward observer. While he was moving to replace the wounded observer, the enemy detonated a Claymore mine, severely wounding him in the head and impairing his vision. In spite of the intense pain, he continued to direct the supporting artillery fire and to employ his individual weapon in support of the hard pressed infantrymen. As the enemy pressed their attack, 2d Lt. Durham called for supporting fire to be placed almost directly on his position. Twice the insurgents were driven back, leaving many dead and wounded behind. 2d Lt. Durham was then taken to a secondary defensive position. Even in his extremely weakened condition, he continued to call artillery fire onto the enemy. He refused to seek cover and instead positioned himself in a small clearing which offered a better vantage point from which to adjust the fire. Suddenly, he was severely wounded a second time by enemy machine gun fire. As he lay on the ground near death, he saw two Viet Cong approaching, shooting the defenseless wounded men. With his last effort, 2d Lt. Durham shouted a warning to a nearby soldier who immediately killed the insurgents. 2d Lt. Durham died moments later, still grasping the radio handset. 2d Lt. Durham's gallant actions in close combat with an enemy force are in keeping with the highest traditions of the military service and reflect great credit upon himself, his unit, and the U.S. Army.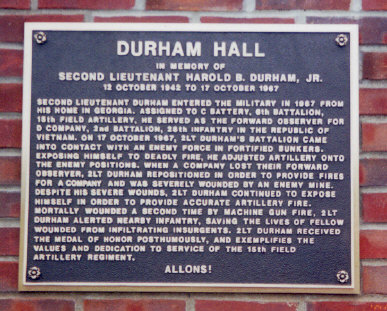 Plaque on Durham Hall
Ft. Drum, NY
Photo credit: Dan Gillotti
(Also see: Regimental Day)
---
Rocky Mount Telegram
newspaper story

Reprinted with permission
Copyright 1999
Reprinted with permission
Copyright 1999

ARMY HONORS HEROISM
OF RM (Rocky Mountain)
BORN OFFICER
ROCKY MOUNT - The people who knew Harold B. Durham Jr. remember two sides to him. One was the loving brother, the Army buddy, the easy-going guy. The other was a fierce warrior who, when his unit was in danger of being overrun in a battle in Vietnam, rained down an artillery barrage that saved the lives of many of his comrades. As the battle reached its peak, he waded into it himself. Though mortally wounded, his unflagging heroism earned him the Medal of Honor, the nation's highest decoration.
Though the battle was fought more than 30 years ago on Oct. 17, 1967 the Army has not forgotten Durham's bravery. It recently dedicated the Hall of Fame building for the former Field Artillery Officer Candidate School FA OCS in military slang at Fort Sill, Okla., in his memory. It's a great story to be written about an American kid who did a tough job when it had to get done, said Jim Shelton, a retired Army brigadier general who, as a major, was coordinating the battle.
Clark Welch, the company commander Durham fought alongside, remembered both facets of Durham as well. He was as brave a man as I have ever met, but kind and nice and funny, wrote the retired Army colonel in an e-mail. For many years it has been too hard for me to talk about those last few battles.
Now it is easier, but not yet easy.
Durham was born in Rocky Mount on Oct. 12, 1942, the son of a buyer for American Tobacco Co., explained John Durham, his older brother. The Durham family spent about a month here before the father moved on to another market on the buying-season circuit. The family called Tifton, Ga., home.
Pinky Durham followed his brother's lead, joining the Army in 1964. He pulled a tour in Vietnam as an enlisted helicopter and airplane mechanic. As his year there was winding down, he accepted an offer to go to FA OCS. When he graduated and was commissioned as a second lieutenant in December 1966, he volunteered to return to Vietnam, arriving in September 1967. Durham worked with Welch's unit as a forward observer, planning and radioing in requests for artillery fire to support Welch's infantry company.
An operation that started on Oct. 16, 1967, carried their unit into a stronghold of the Viet Cong, the Communist guerrillas in South Vietnam. The company withdrew, but was ordered to follow another company back into the area the next day. The battalion staff was moving with Welch's unit. The battle quickly turned against the Americans, who were badly outnumbered, according to accounts by Welch and Shelton. The leading company was destroyed as a unit, and many of its officers, sergeants and soldiers were killed. That left Welch and Durham to take charge of the fight. "When Company A (the lead company) was destroyed, Pinky and I crawled and ran up to where it had been, but there was nothing left of the unit, one of Welch's e-mails says. Pinky remained forward and started calling the fires that we had been planning. I ran back (and) brought my company up one platoon at a time. . . . Deadly enemy fire was coming in on us from three sides when I got back up to Pinky. He was badly hurt by then, but calmly calling in the artillery fire that kept the enemy from moving in and killing all of us.
Welch's e-mails and the citation that accompanied Durham's Medal of Honor paint a picture of a man determined to fight for his life and those of the men around him. Both Durham and Welch were hit repeatedly all 125 soldiers in Welch's company were either wounded or killed in the battle. At times, Durham had to shoot his own rifle to help drive back Viet Cong soldiers who were pressing the attack. At another time, he helped treat wounded soldiers.
Though wounded himself, Durham put himself in exposed positions so he could better call in artillery fire. Before he passed out from blood loss, Welch heard Durham calling in more artillery rounds, erecting a barrier of explosions and shrapnel around the company. Later, when I regained consciousness, the artillery was coming just as (Durham) had planned, Welch's e-mail says. My surviving men were surrounded by the enemy, but fighting back and trying to protect the wounded from both Company A and D and the battalion command group, but my (forward observer) was dead. Lieutenant Pinky Durham was still holding the radio handset.
John Durham returned home when the family was informed of Pinky Durham's death. The news struck his father, a Marine veteran of World War II, particularly hard. "I remember when I showed up in Tifton, Ga., and (my father) came out of that house completely broken, John Durham recalled. Pinky Durham's funeral was held on the same day as the high school homecoming, which that year fell on Halloween.
Interviews with several participants in the battle those at the scene and others listening in on radio traffic did not show who submitted Durham's name for the Medal of Honor. The process of approving citations took almost two years. Durham's mother received the framed medal from Vice President Spiro Agnew and Gen. William Westmoreland, the Army's chief of staff, on Oct. 31, 1969. Durham's father died between when his son died and the presentation of the medal. He did not know his son was being considered for the nation's highest military honor. One of the saddest parts was my father only knew he lost a son, said John Durham.
Though he died long ago, Durham's life still touches many people who knew him. Stephen Orlofsky, now a federal district judge in New Jersey and a FA OCS classmate of Durham, has a photo of his friend, a copy of the Medal of Honor citation and a rubbing of Durham's name from the Vietnam Veteran's Memorial on a wall in his chambers. While FA OCS was demanding on the men it trained, Durham never lost his sense of humor or would let the rigor of the program get him down. Orlofsky recalled Durham as being both an outstanding soldier and a bit irreverent in the eyes of the officers training them.
Durham was charming and engaging, in Orlofsky's words, and always smiling, but totally devoted to his country. When the role of federal judge weighs heavy on his shoulders, Orlofsky looks at the wall-mounted reminders of his friend and classmate.
"On the days I think I'm having a bad day, I think about Pinky and it puts things into perspective," he said.
Finally, how did such a brave man as Durham become known by everyone as "Pinky"?
The answer is found at a hospital in Rocky Mount the day he was born, explained John Durham. "I think the real situation was they ran out of blue blankets for boys, and put a pink blanket over him. "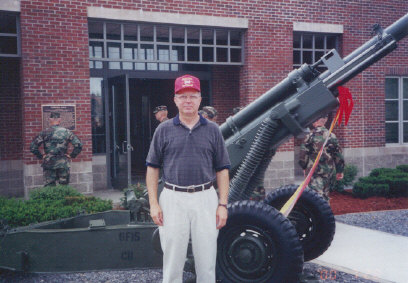 15th Historian Dan Gillotti standing in front of the
M102, 105mm Howitzer named "Pinky"
which sits in front of the Hqs Bldg
of 2nd Bn, 15th FAR, Ft Drum, NY
Photo credit: Dan Gillotti
---
15th LINKS
---
More Links
This book includes the details of Pinky's final battle:
"The Beast Was Out There"
by Brig. Gen. James E. Shelton, USA (Ret.)
The 28th Infantry Black Lions
and the Battle of Ông Thanh,
Vietnam, October 1967
Congressional Medal of Honor Society
Full-text Listings of Medal of Honor Citations
U.S. Army Center of Military History

---