15th Field Artillery Regiment
VIETNAM WAR - 7/15th

7/15th Awards
INDEX
---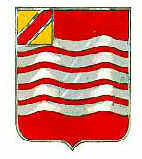 ARVN Award Certificate
Battery A
7th Battalion, 15th Artillery

In 1971, unit awards were exchanged between U.S. Army units and the Army of the Republic of Vietnam (ARVN). Below is an award the ARVN presented to Battery A of the "Fighting Fifteenth".

OFFICIAL ORDER
NR: 161/TTM/CL/NQ

Republic of Vietnam
Defense Department
JGS/ARVN

Joint Chief of Staff
ARVN

Award of Certificate by Army Level
A Battery, 7th Battalion, 15th Artillery - U.S. Army
Battery A belonging to 7th/15th U.S. Artillery is an outstanding unit and good fighting which always raises the fighting morale against Communists.
During the period from July 1967 to 26 May 1971, in spite of difficulty, all soldiers belonging to Battery A are courageous in fighting so that it can accomplished all plans of fire support to stop Communist troops' sabotage and infiltration into MR2 Highland area.
Specially, Battery A, 7th/15th U.S. Artillery Battalion had contributed a great deal in the operation of Quang Trung 22/TP/4 and Quang Trung 22/1 to liberate enemy pressure at Fire Base 6 causing heavy enemy casualties.
To parallel with military activity, Battery A, 7th/15 U.S. Artillery Battalion also participated in conducting civil affairs activity to assist local population establishing the friendship between Vietnamese people and U.S. Army.
With the above brilliant accomplishment, Battery A/7th/15th U.S. Artillery Battalion had contributed a great deal of fighting against Communists in Republic of Vietnam.
APO 4002, dated 2 Sept. 71
General CAO VAN VIEN
Joint Chief of Staff ARVN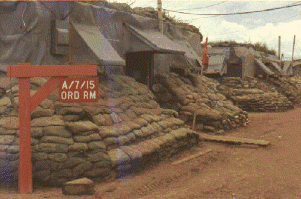 Battery A / 7 / 15 - Orderly Room
Photo credit: Michael Mountain

Individual
Unit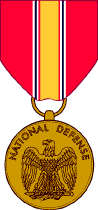 Republic of Vietnam
Gallantry Cross
w/Palm

Streamer embroidered VIETNAM 1967-1971
7th Battalion
15th Artillery
1970
Foreign (RVN)
Foreign (RVN)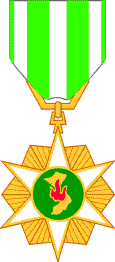 ARVN
Joint Chief of Staff
Award of Certificate

Battery A
7th Battalion
15th Artillery
1971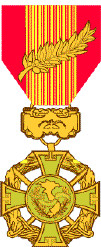 This news article appeared in the February 25, 1971 Artillery Review newspaper, a publication of I Field Force Vietnam Artillery.
Firing Merit Certificate Given to Unit
By SP4 Thomas Cooper
7/15th Arty IO
PLEIKU -- The certificate of Merit for Artillery Firing Safety has been awarded to 7th Battalion, 15th Artillery for superior achievement in the prevention of Artillery accidents and incidents from 1 June 70 to 30 November 70.
As noted by Brigadier General Thomas J. McGuire, former Commanding General of I Field Force Vietnam Artillery, "...your battalion's safety history clearly indicates an effective artillery safety program and emphasis on this program at all levels of command... Your noteworthy achievement has prevented unnecessary loss of life, injury and wasteful destruction."
The achievement is commendable in light of the fact that one out of every five deaths in Vietnam is attributable to accidental causes."
---
7/15th FA Vietnam Era
Service Medals
by: Dave Holdorf
15th Group Leader
5 December 2000
---
There have been many inquiries about the service medals a 7/15th FA Veteran can or should display. As most veterans have been out of the service for many years, this information can be hard to find. It is easy to find information on the Internet regarding the subject, but any of this information can be incorrect. If any, the information found at genuine U.S. Government military web sites would tend to be the most believable.
Types of medals can be broken down into a few categories:
1.) "Personal/Individual" awards/medals awarded you are usually found listed in box # 24 on your DD-214 discharge form. Unit Commanders recommend awards, award clerks add DD-214 information. Items may include "badges" for various qualifications such as sharp-shooter, mechanic, various driver, airborne, infantry, etc. Other medals/awards could include various individual types such as Purple Heart, Silver/Bronze Stars, Army Commendation, Air Medal, overseas bars ( one each six months ), years of service hash-marks ( one = three years, not listed on DD-214 ), etc. Vietnam Medals "should" be at least National Defense Service, Vietnam Service, Vietnam Campaign, and Good Conduct Medal.
2.) "Unit Citations" awarded to the unit you were in during the prescribed periods designated. They would include RVN Gallantry Cross w/Palm. This type is awarded by government decree, as the RVN awarded to the 7/15th FA. Information on these types of awards normally have documentation that can be very hard to find.
3.) "Commemorative Medals" struck ( issued ) to honor various wars, time periods, and honorable military services. These include Republic of Vietnam Defense 1960-1975, Army Commemorative 1775-2000, Cold War Victory Commemorative 2 Sep.1945 - 26 Dec. 1991 ( you can apply for a certificate ).
4.) "Others Medals" can include various foreign country medals awarded to individuals or units while serving in those countries. Information on these are also hard to find to confirm correct protocol.
Some information can be found in catalogs and on web sites, but is not clear. While medal companies claim that you can display some of these, they do not appear to offer documentation of awarding those from foreign governments. Be sure to see the D.O.D. webpage titled "Manual of Military Decorations and Awards" at: http://www.dtic.mil/whs/directives/
(requires Acrobat Reader to view)
5.) "Devices" are medal or medal ribbon attachments. These include very small stars, leafs, letters, knots, or palms. Three Bronze Stars on the Vietnam Service medal indicates three campaigns, more if you served longer. One Silver Star equals five Bronze Stars. Stars are also used to indicate multiple awards. Knots on Good Conduct medals indicate one for each three years service: bronze 2nd-5th, silver 6th-10th, gold 11th-15th awards. The Good Conduct Medal can be issued after completion of first enlistment, draftees after two years.
All medals listed on your DD-214 form should have been issued to you. If not, you can order them from the National Personnel Records Center in St. Louis, MO:
National Personnel Records Center
Medals Section (NRPMA-M)
9700 Page Blvd.
St. Louis, MO 63132-5100
Send in your DD-214, completed DA Form 180 (down-load from http://www.nara.gov ) and you will receive them free in about 9-12 months from the supply center in Philadelphia. All medals will "normally" have your name inscribed on the back.
All foreign and commemorative medals, devices, service bars and hashes must be purchased from medals companies at your own cost. Most medals are about $20-30 for full size, ribbons $1-$2.50., some include the ribbons. Miniature medals and hat pins are available also, some sell tie tacks.
Companies that sell medals, awards, devices, collar insignia, some patches, and display cases are Medals of America, Call to Colors, H. J. Saunders, R.W. Fuller, and others smaller companies.
H.J. Saunders appears to have the largest assortment of Unit Crests for sale.
Danang Enterprises sell various small hat pin type items in the form of unit patches, awards, military equipment, location script, POW/MIA, flags, and humorous. These range in price from $4-$5. In addition, they offer many other memorabilia items. These types of items can also be found at flea markets.
A few other companies offering items are: Graco Industries, Vets Supply Line, Quartermaster, "12 O'Clock High ", National Capitol Historic Sales, and Overload Military Collection.
Davo

7/15TH LINKS