Korean War
15th Field Artillery Regiment
INDIANHEADS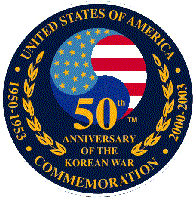 Korean War
On 15 July 1950, the 15th Field Artillery (FA) Battalion (Bn) landed at Pusan, Korea, as an integral part of the 2nd Infantry Division (ID). The first artillery round fired in support of combat actions of the 2nd ID was fired by A Battery, 15th FA Bn, on 6 August 1950. On the morning of 14 February 1951, 1LT Hartell was flying in a Liaison Plane as an Air Observer, when he noticed thousands of men and pack animals moving down from the north. It turned out that two Chinese Divisions were massing for an assault on the Wonju-Yogu Main Supply Route. 1LT Hartell caught them as they were assembling and fired several Battalions onto the target area for more than three straight hours. This became known famously as the great Wonju Shoot, and resulted in nearly 3,500 enemy casualties.
(Also see: Massacre at Hoengsong)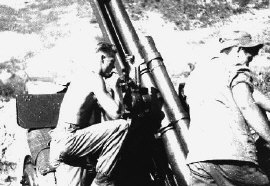 15th artillerymen near Bloody
Ridge in September 1951
Photo credit: Davis (Pat) Beaver

By 26 August 1951, 1LT Hartell was on the ground as a Forward Observer with B Company, 9th Infantry Regiment at the base of Hill 700 near Kobanson-ni. Hill 700 was attacked and taken by B Company that day. But the Chinese mounted a major counterattack at 0400 hours. 1LT Hartell walked the artillery fire right up the hill on top of the charging enemy. Although many of the enemy were cut down, they just kept coming. Although wounded, 1LT Hartell kept calling in artillery fire onto his hilltop. Finally at 0630 hours, 1LT Hartell was hit in the chest by a bullet and his phone went dead. For his heroic actions, 1LT Hartell was awarded the Congressional Medal of Honor (Posthumously). One of the main roads at Fort Sill, Oklahoma, was renamed Hartell Boulevard in his honor.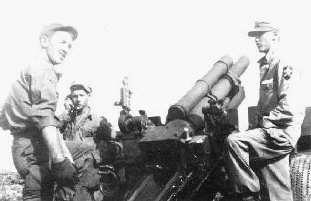 15th artillerymen (left to right)
Beaver, Gallenburger and Sutton
near Bloody Ridge
Photo credit: Davis (Pat) Beaver
Additionally, MSG Jimmie Holloway, A Battery, 15th FA Bn, distinguished himself by extraordinary heroism in action against an armed enemy near Changboag-ni, Korea, on 12 February 1951. He braved 150 yards of open ground, while under heavy enemy fire, and dragged a wounded member of his Battery to safety. He again exposed himself to enemy fire and uncoupled a howitzer and swung it into firing position to place devastating fire on an enemy fortified hill that threatened A Battery's position. After the Battery XO was wounded, MSG Holloway exposed himself to heavy enemy mortar fire and directed artillery onto the opposing forces. Later that night, he was last seen leading a combat patrol towards the enemy. For his heroic actions MSG Holloway was awarded the Distinguished Service Cross (Posthumously).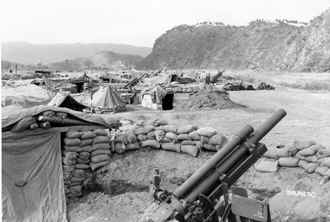 105-mm howitzers of Battery A, 15th Field Artillery Battalion, 2d Infantry Division, are set up one mile south of Kumhwa, Korea, as the assault against Chinese Communist Forces on Hill 1062 gets underway.
4 November 1951 (Koorejian)
From 15 July 1950 to 27 July 1953, the 15th FA Bn established two records unequaled by any other artillery unit during the Korean War. In one 24-hour period during the battle for Bloody Ridge, the 15th FA Bn fired 14,425 rounds. Additionally, from 26 August through 2 September 1951, in support of the 2nd ID during the battle of Heartbreak Ridge, the 15th FA Bn fired 69,956 rounds.

Streamer image: Institute of Heraldry
For its actions during its three continuous years in some of the bloodiest fighting of the war, the 15th FA Bn was awarded 10 campaign streamers including the: UN Defensive; UN Offensive; Chinese Communist Forces Intervention; First UN Counteroffensive; Chinese Communist Forces Spring Offensive; UN Summer-Fall Offensive; Second Korean Winter; Korea, Summer-Fall 1952; Third Korean Winter; and Korea, Summer 1953. Additionally, the 15th FA Bn was awarded the Presidential Unit Citation (Army), streamer embroidered HONGCHON; the Republic of Korea Presidential Unit Citation, streamer embroidered NAKTONG RIVER LINE; and the Republic of Korea Presidential Unit Citation, streamer embroidered KOREA.

Streamer image: Institute of Heraldry
And once again, the Indianheads of the Fighting Fifteenth had more than paid their dues - in blood!
Written by: Dan Gillotti (15th Historian)
---
Attention
Korean War
Veterans!

A new medal was authorized
on 28 June 2000 for your
Korean War Service.
See Announcements
KOREA LINKS
Campaigns Decorations Hoengsong Korea Home LT Hartell Time Line Scroll of Honor Photos Korean War History [1] [2] [3]
---
"In many situations that seemed desperate,
the artillery has been a most vital factor."
General Douglas MacArthur

______________________________________