USNS WALKER
The first troops, artillery pieces, vehicles and other equipment of the 7/15th were transported to Vietnam aboard the USNS Walker during June of 1967. The men who were onboard that Walker "cruise" will never forget their voyage.
What's that old song from the 40's ...
about a "slow boat to China?"
Below is a photograph of the USNS Walker, taken by Chuck Alexander, one of the original 'cruisers' with the 7/15th to Southeast Asia.
A newsletter was published every day of the voyage by a few men on the crew of the Walker. Below is a copy of the heading from that newsletter, as well as some of the text from the 15 June 1967 issue.

15 June 1967 USNS General Nelson M. Walker No.5
JOKE:
Private: "I feel like telling that sergeant where to get off again."
2nd Private: "What do you mean again?"
Private: "I felt like it yesterday too."
QUOTATION FOR TODAY: The man who Insists upon seeing with perfect clearness before he decides, never decides. Accept life, and you cannot accept regret. Henri-Frederie Amiel
FOR YOUR INFORMATION: Although today isn't Friday we thought we would address this short article to all the fish aboard. We hate to keep talking about it but gambling is illegal aboard ship. All officers have been directed to collect all money found and it will be donated to the Navy Relief Fund. A word for some of you young troops who think you can play against the card sharks aboard. Forget it!! You'll just end up the loser. Just a word to the wise as we will not be discussing this problem again.....
NOTE FROM THE NEWSPAPER STAFF: Many thanks to the Chief Steward for the sandwitches (sic), for the newspaper staff members who missed supper due to getting the paper out.
MOVIE SCHEDULE: 15 June 67
Ships Crew MYSTERY OF THUG IS
1830-2000
Ships Off THE LEFT HANDED GUN
1730-2000
Troop Off RIVER OF EVIL
1900-2030
Troops PETE KELLY BLUES
SPECIAL SERVICES ANNOUNCEMENT: Tours of the Bridge will be given twice daily except Sundays beginning 17 June at 0930 and again at 1300 hours. Personnel interested contact Special Services located around the corner from the troop office. Individuals going on tours will meet a member of the ships crew at Pursors' Square. Please be there at least five minutes early.
Talent show, as always, 1500 hours.
LOST AND FOUND:
UNCLAIMED: 2 pair of glasses, 1 wrist watch, 2 keys
LOST: 1 wrist watch 1 Butane cigarette lighter
SICK CALL HOURS:
0830-1000 Troops and cabin class passengers
0830-930 Crew members
BEWARE FEMALE
Man's mate is the female and after three weeks at sea the call of the wild goes out. But in Vietnam there is one female that will attack you She strikes at night or early dawn or dusk. Like all other females, when she is Infected she will spread her ugly disease to those she comes in contact with. The female we are speaking about is the female anophiline mosquito that Is very common in Vietnam. The not uncommon disease she spreads is malaria, which is often a chronic rather than an acute disease. Gentlemen, be prepared is my best advice. Besides taking your anti-malarial tablets regularly as directed, use all the protective measures available to you to prevent this infected female from biting you. Use your mosquito netting at night. Don't run around at dawn or dusk without a shirt on. When in the Highlands us the insect repellent supplied to you freely. Remember, no matter what subject one speaks on, your best protection is your own alertness and awareness of the situation. ALWAYS keep your guard up. DOC. ROTY
A FRIENDLY REMINDER FROM THE NAVY CHIEF TO THE TROOPS
1. Compartment sergeant should draw cleaning equipment prior to 0715. Doing so later causes unneccesary traffic thru compartments that are already clean.

2. It has come to my attention that troops are stuffing the general alarm bell with cotton and other material. REMEMBER this bell could save your life.
FLYING FISH
Have you been standing up on the deck lately? Have you been seeing strange things? Well these strange things are flying fish, a fish able to leave the water when alarmed or pursued, and sustain itself there for several seconds in the air. In tropical seas the flying fish rise from the water in flocks, or, more properly, shoals, of many thousands at a time, when disturbed by the passing of a ship or pursued by such foes as the bluefish or albacore. They spring from the crest of a wave, and, darting forward, plunge into another to wet the membrane of the fins, and In this manner continue their fights for several hundred yards, often pursued by marine birds in the element to which they are driven for protection against the tyrants of their own. The sole motive power is the propulsion obtained by the work of the tail in giving the rushing leap from the water; but the great pectorals act to some extent as support... The two main types of flying fish are the two-winged and the four-winged. The former average about six inches in length and the latter are found up to 18 Inches. Another sort of flying fish is the sea robin.
ALBATROSS
It may surprise you to know our freeloading airborne friends (no reflection on troops aboard) (Webmaster's note: According to L. Lee Boyd, there were 28 Cessna Bird Dogs of the 185th RECON on board headed for Ban Me Thuot in the Central Highlands) that occasionally swoop down to feast on discarded chow, are one of about 15 species of the Albatross. These birds have unsurpassed powers of flight. They are able to ride out the roughest storms with ease. The largest of the species, the Wandering Albatross, is white in color and has a maximum wing spread of 12 feet. Soldiers aboard ship have nothing to fear because the principal food of the Albatross is squid and other small marine creatures. Two kinds of Albatross, the Gooney Bird and Wandering, nest on the Midway and other Pacific Islands north of the equator. When airstrips were being constructed on Midway the Albatrosses had to be forcibly removed from their nests. Such behavior has given them the name "Gooney Birds". The albatrosses of the Pacific were formerly killed ruthlessly for their feathers, however they are now protected.
NOTES FROM THE TROOP COMMAND
The question has been asked many times at the newspaper office, "Will we be able to get off the ship at Okinawa?" The answer thus far Is this: As far as the Troop Command is concerned all personnel will be able to get off at Okinawa for a limited time; However, THIS DECISION IS NOT UP TO THE TROOP COMMAND ALONE. IT DEPENDS ON THE NAVY MILITARY DEPARTMENT ON BOARD AND THE UNIT COMMANDERS. FACTORS TO BE TAKEN INTO CONSIDERATION ARE DOCKING FACILITIES AT OKINAWA PLUS THE REQUIREMENTS OF THE NAVY MILDEPT AT THAT TIME. DEFINITE PROCEDURES CONCERNING THIS QUESTION WILL BE KNOWN BY THE "WALKER REPORT" AS SOON AS THE INFORMATION IS AVAILABLE.
JOKE:
MIKE: What's the difference between a mail box and a loaf of bread?
FRANK: I'don't know.
MIKE: Remind me never to send you to the store for a loaf of bread.
SUN, SUN, SUN
When one allows himself to become excessively sunburned he opens the door to potential serious legal trouble, financial loss, and an adjusted ETS. The legal trouble could be an Article 15 or a court-martial; the financial loss as the result of forfeiture, fine, or reimbursement to the government for hospital treatment. Your ETS could be extended by time spent in confinement or lost as the result of injury which was incurred not in the line of duty due to misconduct.
Cases in which there is an excuse for excessive sunburn are few and far between. Rare is the situation that one cannot get out of the sun or cover his skin against its rays. That is why it is presumed that excessive sunburn comes about as the result of willfulness or negligence. Excuses such as "I fell asleep" or "I used suntan lotion" usually fall short of being justifiable. Excessive sunburn can be defined as sunburn that incapacitates a man from his duty.
WATER, WATER, EVERYWHERE
A brief reminder about water on the "WALKER". All water faucets must be turned off In the heads and in other areas where water waste may occur. Watch it close men. There is no water rationing now, but negligence on your part, particularly after we get into the hot climate where the ships water producing equipment functions at less than a needed capacity, WILL result in strict rationing. Report all plumbing failures to the troop office.
PILLS, PILLS, AND MORE PILLS
INFORMATION ON MALARIA PILLS: THE FIRST PILL WILL BE TAKEN ON MONDAY, THE 26th, BEFORE THE EVENING MEAL. ALL UNITS SHOULD HAVE THEIR MALARIA PILLS, THOSE WHO DO NOT, PILLS WILL BE AVAILABLE AT THE TROOP OFFICE, ON MONDAY THE 26th.
THE PILLS ARE TO BE TAKEN ONCE A WEEK ON THE SAME DAY FOR THE REST OF THE TIME IN VIETNAM AND FOR EIGHT WEEKS AFTER LEAVING VIETNAM. THE PILLS ARE NOT A CURE FOR MALARIA, BUT SERVE TO SUPPRESS THE SYMPTOMS OF THE DISEASE.
CHOW CALL: E-6's may go to the head of the line, however, they must eat during their compartment feeding time.
NCO LOUNGE: The NCO lounge, E-6 and above, will be closed to all personnel each morning from 0900 to 1030 hours in order to prepare the lounge for inspection.
UNIFORM REGULATION: Effective immediately: E-5 and above. Uniform of the day will be: fatigue jacket worn outside the trousers, sleeves rolled up. Any further questions concerning uniforms, or anything that is of interest to you, see LT D.J. MURPHY, Troop Information Officer.
NEWS - 21 JUNE
Moscow- The Soviet press accused President Johnson of whitewashing Israel's policy and actually defending Israeli interests in his recent speech on the Mideast.
Lansing, Mich- Governor George Romey said he and former President Eisenhower agree on most issues of the war in Vietnam.

U.N.- US Ambassador Arthur Goldberg Tuesday urged the General Assembly to approve President Johnson's five point program to bring a stable and lasting peace to the Middle East.

Wash, DC- Congress approved and sent to President Johnson Wednesday a four year extension of the draft law. The new law guarantees undergraduate deferments to college students and switches the order of induction to the youngest men first. The legislation is a compromise between differing bills passed by the House and Senate, which last week accepted a House provision to block Johnson from instituting a draft lottery. Some Republicans complained that Congress had not met its responsibility in reforming the draft.

Saigon- The US Navy used gunboats and Civil War tactics to help kill 196 Communists in the Mekong Delta according to military spokesmen. Five battles raged in Vietnam Tuesday as the Communists lost a total of at least 343 killed against American losses of 47 dead and 216 wounded.

Atlanta- Negro leaders sought 25 youths willing to form a youth patrol to help head-off further violence in the Dixie Hills section of Atlanta.
Washington- Weather experts said Tuesday that radioactive debris from Red China's H bomb would start floating high over the US West Coast Wednesday. Government officials and health physicists saw no menace to human beings from the small amounts of fallout expected. Washington- The United States was disclosed to have turned down proposals for peace talks with North Vietnam in late-1964 because Russia led the Johnson administration to believe the Hanoi Government was not seriously Interested.
Green Bay- Defensive end Willie Davis of the Green Bay Packers signed his contract for the 1967 pro-football season.

San Francisco- The National Basketball Association's top scorer Rick Barry jumped to the new American Basketball Association leaving the San Francisco Warriors to sign a three year contract with the Oakland Americans.
The Radio Room
You sit and watch the radio-telegraph operator work his equipment as you would a jazz musician wailing on his instrument. The dots and dashes speak a language only a highly trained ear can easily and fully comprehend.
The radio operator tries to explain to you how the radio room works but often stops in the middle of a conversation as his mind is pulled to a new group of Morse coming in over the receiver. During the three minutes in which all radio operators monitor the distress frequency, 500 kc, by maintaining radio silence, he explains a few more facts of radio operation.
English is almost a universal language, and operators of every nation usually can receive and sound messages In this language. Morse code is used on the high seas because communication by word is too garbled and easily misunderstood. When we send or receive a classified message it is often challenged, secret letters then being used to verify identification.
Weather forecasts and navigational warnings are continually received on the Morcast frequency system. News is received generally In the evening direct from RCA in San Francisco.
I was amazed to learn that if I were not on a classified movement I could send a commercial message from the Walker radio room. Birthday greetings and seasonal salutations can be received, and flowergrams, candygrams, hotel reservations and even magazine subscriptions can be sent off, for a fee of course.
The radio room is an exciting place to be. Here is a man sitting, headset on, with his ears in tune to what is happening in the world and letting the world know we still exist.
DEAR ADVISOR,
What is the most prevalent disease among U.S. soldiers in Viet Nam today? WONDERING
DEAR WONDERING,
You don't even have to second guess this one. The answer is venereal disease. There are five types of venereal disease; syphilis, gonorrhea, chancrold, lymphogranuloma venereum, and granuloma lnguinale. They are all present in Viet Nam. One out of every four soldiers In Viet Nam gets VD. The three most common types in order are gonorrhea, syphilis, and chancroid. Remember, although we know the reported cases, the actual incidence is even higher. In Okinawa the incidence is slightly lower, but not low enough where chance is in your favor. You know that if you head for the red light district you are not going to find a virgin. A little common sense will tell you that if the "natives" have been selling themselves they are not about to be selective or conscientious of medical sanitation. So where does that leave you? Well It should leave you on ship if that was the only purpose you had in going ashore. VD in females, especially syphilis and gonorrhea can go unnoticed unless actually tested for by laboratory techniques- by trained personnel. So you cannot necessarily tell who has got the "Disease" by just looking at them, and in females you cannot cleanse it away. So if you chance it, you're going in blind. And a blind man can't see the light anyway... Today there are many soldiers who have served their time In Vietnam, but because of resistant cases of gonorrhea, have been under treatment at hospitals in the Phillipines for as long as six to eighteen months .... YOUR ADVISOR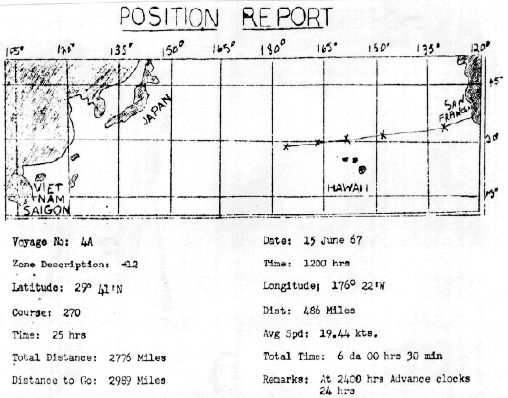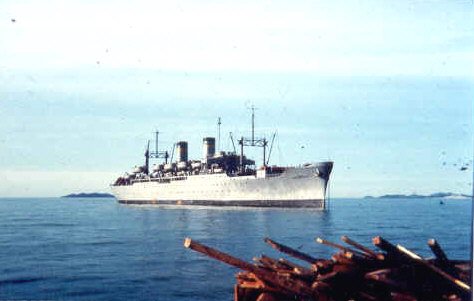 The Main Party of the 7th Bn, 15th FA arrived at the Port of
Qui Nhon, RVN aboard the USNS Walker on 1 July 1967
---
See more photos of the Walker voyage:
7/15th Places
---
HISTORY OF USNS WALKER
The General Nelson M. Walker (AP-125) built under a Maritime Administration contract, was launched 26 November 1944 at the Bethlehem-Almeda Shipyard in Alameda, California. She was originally a Navy Transport named in honor of Admiral H. T. Mayo and was commissioned 24 April 1945 as USS Admiral H.T. Mayo. Admiral Mayo was born in Burlington, Vermont, 8 December 1856, and appointed a cadet midshipman at the Naval Academy in 1872. He graduated in 1876. After serving on the Bennington and R.S. Independence during the Spanish-American War, Admiral Mayo was designated as Commander -in-Chief, Atlantic Fleet on 19 June 1916. In May of 1917 he assumed rank of Admiral and continued as Commander-in-Chief, Atlantic until his detachment on 2 July 1919. The USS Admiral Mayo (AP-125) first commanded by Captain R.C. Heimer, USCG steamed both the Atlantic and Pacific Oceans as a troop carrier and cargo vessel between May 1945 and May 1946. On 25th April 1946, the Admiral Mayo stood out of Seattle, bound for New York City and planned inactivation. She was decommissioned on 11 May in the New York Naval Shipyard. However, on 26 May, the Mayo was transferred to the Army Transport Service and redesignated the USAT General Nelson M. Walker. Brigadier General Nelson Macy Walker was a native of Pittsfield, Mass. He began his Army career in 1917 at the officer's training camp at Plattsburg, N.Y. Commissioned a Second Lieutenant in the Reserve during World War I, he served in the Aisne-Marne, St. Mihiel and Meuse-Argonne offensives in France. He advanced through the ranks to that of Assistant Division Commander of the 8th Infantry Division during World War II. Brigadier General Walker gave his life for his country on the invasion beaches of Normandy in July, 1944. Under the Army Transport Service the Walker made her base of operations Seattle, and by the first half of 1948 she had completed 15 voyages between Pacific coast ports and Hawaii, the Phillipines, Mariannas, Korea and Japan. In July 1948, she entered a triangular pattern: San Francisco - Yokohama - Okinawa - U.S. West Coast. In 1949, she began to serve Okinawa exclusively and was affectionately called the "Okinawa Express." She had completed 27 voyages for the Army Transport Service by 1 March 1950 when she was re-acquired by the Navy's Military Sea Transportation Service and operated as the USNS General Nelson M. Walker (T-AP 125). The Walker continued to serve NSTS much as she had the former Army Transport Service. At first she remained on the Okinawa run, but at the outbreak of the Korean War she was pressed into service ferrying troops to the Far East. Ports of Japan and Korea became the focal points of her itinerary. Okinawa appeared only now and then on her schedule. Following her return to San Francisco on completion of her 18th voyage, 10 December 1951, she departed for Seattle to enter the shipyard for conversion to an "austerity trooper." On one voyage in mid-1952, as the walker neared San Francisco she received word she would be deployed aroung the world for transport of United Nations troops to and from Korea. On 5th September 1952 her world deployment was terminated. She had called at 15 different ports, steamed 34,575 miles and transported 17,907 persons without a mishap. The Walker resumed her trans-Pacific run to Japan and Korea. In 1953 she made eight round-trips and had the distinction of bringing home the first group of returning American prisoners-of-war. On 20 January 1959, the USNS General Nelson M. Walker (T-AP 125) was placed in the Maritime Administration Reserve Fleet in the Hudson River at Jones Point near New York City. In August, 1965, the Walker was taken out of the Maritime Reserve Fleet and reactivated by the Military Sea Transportation Service to be placed in active service about mid-autumn 1965.
More: The Love Boat from Hell
---
7/15th VIETNAM HISTORY