This page is dedicated to the memory of
JAMES ROBERT KALSU
13 April 1945 - 21 July 1970

Vietnam Veterans Memorial - Panel 8W, Line 38


Firebase Ripcord - Thua Thien Province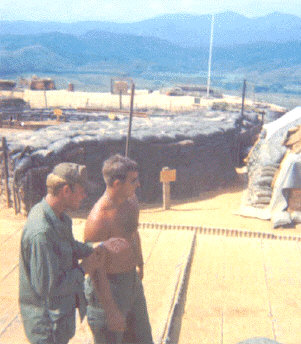 1LT Bob Kalsu (right)
Photo: Roger H. Dent



Bob Kalsu was the only professional football
player killed in the Vietnam War

Bob was selected as an Oklahoma Sooner All-American Tackle in 1967. As an eighth-round draft pick of the Buffalo Bills in 1968, he started eight games at Guard and was voted the team's top rookie in 1968.
He began fulfilling his ROTC obligation with the US Army following the '68 season and started his tour of duty in Vietnam in November of 1969, where he served with Battery C, 2nd Battalion, 11th Artillery, 101st Airborne Division.
His MOS was 1193 - Field Artillery Unit Commander. LT Kalsu was killed by mortar fire on July 21, 1970 at Firebase Ripcord near the Ashau Valley.
MOS 1193 - Field Artillery Unit Commander
---
November 2000 news story
ORCHARD PARK, N.Y. (AP) -- Bob Kalsu -- the only professional football player killed in the Vietnam War -- was added to the Buffalo Bills' Wall of Fame in a ceremony held before Buffalo's game against Chicago on Sunday.
Kalsu's widow, Jan Kalsu McLauchlin, was on hand to accept the honor along with the couple's two children, Jill Horning, 32, and Bob Jr., 30. Bob Kalsu Jr., who wore his father's jersey during the ceremony, was born two days after his father was killed by mortar fire on July 21, 1970.
"The Buffalo Bills organization has supported us. When we were crumbled with grief they were there to pick us up and wrap their arms around us and remember Bob," Kalsu McLauchlin said. "For the children and myself, it's such an honor and such a statement to the Bills organization."
The ceremony also included a video tribute to Kalsu by retired Gen. Colin Powell.
"America owes a great debt to those who died to keep us free," Powell said.
Kalsu -- who is a native of Oklahoma City and was an All-American tackle at the University of Oklahoma -- was an eighth-round pick of Buffalo in 1968 and was voted the team's top rookie following the 1968 season.
Kalsu McLauchlin said that the Bills not only paid tribute to her late husband on Sunday, but all of those who lost their lives in Vietnam.
"Bob was 25 but the others they were 18, 19 years old. They had dreams too and they were cut short," Kalsu McLauchlin said. "Bob was able to start beginning his dream. Some of them never got to and for that I would have Bob's name up there to honor them."
Kalsu #61 and former Buffalo defensive back George Saimes -- who was also honored by the Bills on Sunday -- became the 15th and 16th members of the team's Wall of Fame. It was the first time in team history that more than one person was added in a single season.
---
1LT Kalsu Replacement Company
101st Soldier Support Battalion,
101st Airborne Division (Air Assault)
at the Airport in Mosul, Iraq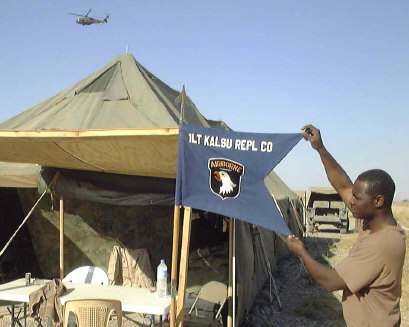 Photo: CPT Gilbert White
October 2003
Sir, I found your website while looking for the Ripcord Association Website, and glad I did. My name is Gilbert White, I'm a Captain in the Army and currently the commander of the 1LT Kalsu Replacement Company, 101st Soldier Support Battalion, 101st Airborne Division (Air Assault).
Yes, I said the 1LT J. Robert Kalsu. The 101st Airborne Division held the memorialization on 9 August 2002. In attendance were 1LT Kalsu's widow and children, members of the Ripcord Association and MG (Ret) Harrison, who was the keynote speaker. I took command of the company a few days after the memorialization.
Over the past 14 months the unit has had very little time to rest. Annually the company processes over 11,000 soldiers into the 101st Airborne Division and tenet units of Fort Campbell. In light of the events of the last 8 months we have split the unit to operate both at Fort Campbell in our traditional capacity, and forward with the 101st Airborne Division (Air Assault) deployed in Iraq. During the time deployed the company has performed replacements operations from Kuwait through Iraq to our current location at the Airport in Mosul, Iraq.
Since the beginning of April close to 10,000 soldiers have processed through the unit. This is the first time operations of this kind and scale have been performed since Vietnam. It is with great honor that the soldiers of the unit and I display 1LT Kalsu's name on the guidon in front of our tents. I am attaching a photo of the guidon, and will send a few others that we have tomorrow. The story of Bob Kalsu is one all soldiers should hear and know. He is an example of what we all should strive to emulate.
Respectfully Yours,
Gilbert W. White
CPT, AG
Commanding
1LT Kalsu Replacement Company
101st ABN DIV (AASLT)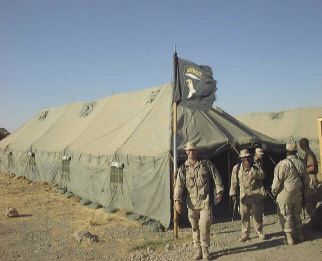 ---
LINKS
2nd Battalion, 11th Field Artillery Homepage