Scroll of Honor
15th Field Artillery Regiment
KOREAN WAR

This Scroll of Honor is dedicated to the memory of those
men of the 15th Field Artillery Regiment who made the
supreme sacrifice for freedom during the Korean War


"Not for fame or reward, not for place or for rank,
but in simple obedience to duty, as they understood it."
Quote from a memorial in Arlington Cemetery



15th Field Artillery - Korean War
Name - Rank - Date of Loss - Home County, State
APT, DAVID G PV2 11/21/50 Henrico, VA
ARMSTRONG, CLARENCE PFC 2/13/51 Delta, CO
ATHA, ROBERT H PFC 2/13/51 Lincoln, NV
ATKINSON, BENNY C SGT 2/13/51 Rockcastle, KY
BALFOUR, GEORGE F PFC 2/13/51 Virgin Islands
BARKER, VERNON R SFC 2/13/51 Carter, KY
BARRETT, ALVIN J SFC 2/13/51 Los Angeles, CA
BEAVER, CLARENCE C SGT 2/13/51 Ventura, CA
BECK, JAY E PFC 2/13/51 McKean, PA [Photo]
BENNETT, HENRY A PV2 4/11/51 St Marys, MD
BIRKHOLZ, MELVIN A PFC 2/13/51 McLeod, MN
BJORK, WILLIAM W SFC 2/13/51 Flathead, MT
BLACK, JAMES M SFC 2/13/51 Freestone, TX
BOACH, ROY S PFC 2/13/51 Oneida, WI
BOGART, WILLIAM T PFC 10/7/51 Kings, NY
BOLL, JOHN F PFC 2/13/51 Cook, IL
BRADY, JOHN T PFC 2/13/51 Middlesex, MA
BRAGG, CHARLES T PFC 2/13/51 Spartanburg, SC
BROWN, ANDREW B PFC 2/13/51 Wright, MO
BROWN, WILLIAM L JR CPL 2/13/51 Burke, NC
BUCKLEY, DENNIS D PFC 2/13/51 Wayne, MI
BURR, DONALD K CPL 2/13/51 Forsyth, NC
BURTON, GEORGE R PFC 2/13/51 Penobscot, ME
CAMPBELL, CHARLES C CPL 2/13/51 Knox, OH
CAMPBELL, JACKIE A PFC 2/13/51 Jefferson, KY
CARTER, JAMES R PFC 2/13/51 Raleigh, WV
CARTER, LLOYD L PFC 2/13/51 Webster, GA
CASILLAS, DANIEL PFC 2/13/51 Bexar, TX
CAWLEY, LEE R PFC 2/13/51 Buchanan, MO
CHALIFOUX, LAWRENCE CPL 2/13/51 Baraga, MI
CHAPPELL, BILLIE F PFC 2/13/51 Calhoun, AL
CHAPPELL, EVERETT F PFC 2/13/51 Montgomery, NC
CHAPPELLE, JAMES R PV2 2/13/51 Boone, AR
CHARLES, MARVIN R PFC 2/13/51 Sumter, SC
CHASTAIN, JOHN W PFC 2/13/51 Christian, MO
CHASTEEN, VASKEL T PFC 2/13/51 Anderson, SC
CHILDRESS, ERNEST A SGT 2/13/51 Fulton, GA
CLECKNER, ROBERT D CPL 2/13/51 Mahoning, OH
COLE, HENLY P JR PFC 2/13/51 Cumberland, NC
COLLINS, JAMES R PFC 2/13/51 Lawrence, TN
COOPER, PAUL D PFC 2/13/51 Cobb, GA
COUGHLIN, FRANK J CPL 2/13/51 Minnehaha, SD
CRAZE, THOMAS V PFC 2/13/51 Hamilton, TN
CREMEENS, DEAN W CPL 2/13/51 Tazewell, IL
CRISS, THEODORE D PFC 2/13/51 Mahoning, OH
CRISWELL, REED A PFC 2/13/51 Washington, IN
CURTIS, JACK PFC 2/13/51 Cass, MI
CURTIS, RALPH E 2LT 9/18/50 Humboldt, CA
DARDEN, KENNETH P PFC 2/13/51 Summit, OH
DAVIS, JOHN L PFC 2/13/51 Los Angeles, CA
DAVIS, NORMAN R PFC 2/13/51 Peoria, IL
DAVIS, SAM H PFC 2/13/51 Harris, TX
DEWS, JOSEPH G SFC 2/13/51 Glenn, CA
DIXON, ROGER J E PFC 2/13/51 Washington, ME
DOOLITTLE, NORRIE C SGT 2/13/51 St Louis, MO
DUNNAWAY, DONALD L PV2 8/11/50 Boone, IL
EADES, CHARLES L CPL 2/13/51 Stoddard, MO
EARNSHAW, ARTHUR H MAJ 2/12/51 Multnomah, OR
EDSON, J C CPL 8/11/50 McCulloch, TX
EDWARDS, RAY SFC 2/13/51 Willacy, TX
ELDRIDGE, RONALD T PFC 2/13/51 Calhoun, MI
ENGLISH, VERNON R CPL 2/13/51 Middlesex, MA
EVANS, EVERETTE R CPL 11/12/50 Madera, CA
EVANS, MURL R SFC 8/11/50 Dewey, OK
EVANTS, BOBBIE SGT 2/13/51 Praine, AR
EWART, JACK F PV2 2/13/51 Westmoreland, PA
FALLORINA, PIVO PFC 2/13/51 Los Angeles, CA
FARFAN, LAWRENCE B CPL 2/13/51 Alameda, CA
FARMER, HARVEY L PFC 8/14/52 Cook, IL
FEYEREISEN, ROBERT CPL 8/11/50 Washington, CO
FIGUEROA, FRANK R SGT 2/13/51 Los Angeles, CA
FILLOON, RICHARD D PFC 2/13/51 Pocahontas, IA
FORD, JOE L PFC 2/13/51 Cumberland, TN
FRISCO, SAMUEL E PFC 2/13/51 Cuyahoga, OH
GANNON, MICHAEL CPL 2/13/51 Cuyahoga, OH [Photo]
GATELY, DONALD W PFC 2/13/51 Saint Lawrence, NY
GLEASON, JOHN J CPT 2/13/51 Box Elder, UT
GODWIN, CHARLES W PFC 2/13/51 Weakley, TN
GODWIN, ELI PFC 2/13/51 Harnet, NC
GOERL, RUEBEN J PFC 2/13/51 Shawano, WI
GOERLICH, ROBERT G CPL 2/13/51 Adams, IL
GONZALES, HENRY C PFC 2/13/51 Dallas, TX
GORDON, WILLIAM L PFC 2/13/51 Richmond, NC
GRAGG, LESLIE O 2LT 11/30/50 Los Angeles, CA
GRAMS, JAMES W 1LT 2/13/51 Ramsey, MN
GREEN, EDGAR L PFC 2/13/51 Greenville, SC
GROLEAU, ROBERT G PFC 2/13/51 Wayne, MI
HANEY, MARVIN A 1LT 2/13/51 Tulsa, OK
HANNAH, MORGAN H PFC 2/13/51 Lowndes, MS
HANSEN, FLOYD M SGT 2/13/51 Platte, NE
HANSON, WILLIAM W SFC 2/13/51 Winnebago, IA
HARE, JAMES R PFC 2/13/51 Allegany, MD
HARRIS, ROBERT L PFC 2/13/51 Tulsa, OK
HARTELL, LEE R 1LT 8/27/51 Fairfield, CT
HAWTHORNE, VERNON A PV2 8/13/50 Dade, FL
HAYES, HARRY G PFC 2/13/51 Westmoreland, VA
HEDGES, EDWIN G PFC 2/13/51 Dauphin, PA
HEILMAN, ERNEST L R PFC 2/13/51 Scioto, OH
HERNANDEZ, MAX F PFC 2/13/51 Weld, CO
HIGGINS, ROBERT PFC 2/13/51 Philadelphia, PA
HOLLOWAY, JIMMIE MSG 2/12/51 Orange, FL
HOOD, WALTER B CPL 2/13/51 Wake, NC
HOOD, WALTER L SGT 2/13/51 Merced, CA
HOPKINS, JIMMIE L PFC 7/10/53 Bay, FL
HOSKINS, CLARENCE E PFC 2/12/51 Kay, OK
HUNT, DUANE M PV2 2/13/51 Bent, CO
JAKIELEK, EUGENE PFC 10/6/51 Wayne, MI
JEFFREY, ALFORD PFC 2/13/51 Williamson, IL
JENSEN, ROY L PFC 11/10/52 Jasper, IA
JOHNSON, DAVID A PFC 2/13/51 Summit, OH
JOHNSON, MARVIN J PFC 2/13/51 Oneida, WI
JONES, ARTHUR O 2LT 2/18/52 Middlesex, MA
JONES, DOYLE T PFC 2/13/51 Tattnall, GA
JONES, FRANK L PFC 2/13/51 Lee, IA
JUSTUS, BERT W JR 1LT 2/13/51 Los Angeles, CA
KARNOS, RICHARD J MAJ 2/13/51 Brown, MN
KAYS, BILLY J PFC 2/13/51 Washington, KY
KEITH, JOHN W JR COL 2/13/51 Jefferson, AL
KIMBALL, DONALD J CPL 2/13/51 Hillsdale, MI
KING, EDMUND 1LT 2/13/51 Tuscarawas, OH
KLING, EUGENE H PFC 2/13/51 McHenry, IL
KNIGHT, FRANKLIN J PFC 2/13/51 Perry, IL
KOLDEN, ARNOLD R JWO 2/13/51 Los Angeles, CA
KOPSCICK, GEORGE JR 2LT 9/2/50 Lake, IN
KRITZWISER, GLEN E PFC 2/13/51 Pike, OH
LAWRENCE, THEODORE PFC 2/13/51 Muskegon, MI
LAWVER, JACK D SFC 2/13/51 Los Angeles, CA
LE COMPTE, BILLY J PV2 8/15/50 Pottawatomie, OK
LEDBETTER, ALFRED B SFC 2/13/51 Cherokee, KS
LENEAUX, GRANT W SFC 2/13/51 Monroe, NY
LEVESQUE, NORMAN R PFC 8/11/50 Bristol, MA
LEWIS, OLEN SGT 2/13/51 Washington, MO
LILLER, MAX W PFC 2/13/51 Garrett, MD
LITTLE&BEAR, MELVIN PV2 2/13/51 Corson, SD
LOGUE, LLOYD A PFC 2/13/51 Cass, IA
LOPEZ, ALFRED JR PFC 2/13/51 Mahoning, OH
LOTIS, THOMAS D PFC 2/13/51 Northumberland, PA
LOTT, GEORGE W 1LT 2/13/51 Cullman, AL
LOUVIERE, RAY V CPL 2/13/51 Terrebonne, LA
LOVING, WILLIAM N PFC 2/13/51 Montgomery, TN
MAHONEY, THOMAS R PFC 2/13/51 Worcester, MA
MANNING, BILL D PV2 2/13/51 Pike, OH
MARTINEZ, JESUS P PV2 2/13/51 Los Angeles, CA
MC AULIFFE, CORNELI SGT 2/13/51 Klamath, OR
MC CAIN, JAMES D SFC 2/13/51 Tarrant, TX
MC CALL, MARVIN E PFC 2/13/51 Suwannee, FL
MC COMBIE, CLOYD M PV2 2/13/51 Blair, PA
MC DOUGAL, CHARLES 1LT 2/13/51 Lafayette, MO
MC INTIRE, MILLARD SFC 2/13/51 Lewis, WA
MC LEMORE, BILLY E CPL 2/13/51 Poinsett, AR
MC MULLAN, PATRICK 1LT 2/13/51 Boone, IA
MERCIER, JOS H R PFC 3/15/51 Coos, NH
MITCHELTREE, KERMIT SFC 11/26/50 Lycoming, PA
MONK, ALBERT V CPL 2/13/51 McCurtain, OK
MOODY, JOHN I SFC 2/13/51 Cayuga, NY
MORELLI, EUGENE M PFC 2/13/51 San Diego, CA
MORTON, EDWARD W SFC 2/13/51 Burnet, TX
MOSLEY, WILLARD L PFC 2/13/51 Halifax, NC
MULHOLLAND, WAYNE E PFC 2/13/51 Kent, MI
MULLINS, CEBERT W PFC 2/13/51 Hamilton, OH
MUNDA, JOSEPH F SFC 2/13/51 Hillsborough, FL
NEAL, DUANE B PFC 8/11/50 Multnomah, OR
NEFF, KENNETH E SGT 2/13/51 San Bernardino, CA
OLACHIA, ESEQUIEL A CPL 2/13/51 Harris, TX
OLAKER, FREDDY J CPL 2/13/51 Barbour, WV
ONEILL, PHILIP J CPT 2/13/51 Butler, PA
PARISH, JOHN F JR PFC 8/11/50 King, WA
PASKE, ROBERT W SGT 2/13/51 Tulare, CA
PELLETIER, JOSEPH N PFC 2/13/51 Coos, NH
PEREZ, MARCOS H SR PFC 2/13/51 Bexar, TX
PERREAULT, GEORGE A PFC 2/13/51 Chittenden, VT
PETE, GRAY P MSG 8/11/50 San Juan, NM [Photo]
PIERCE, ALBERT C PFC 2/13/51 Alameda, CA
PIERCE, ARTHUR J CPL 2/13/51 Delaware, PA
POMERENE, ROBERT L CPT 2/13/51 Pierce, WA
PORTER, GEORGE A PV2 2/13/51 Philadelphia, PA
POTTS, HUBERT W 2LT 2/13/51 Davidson, TN
POTTS, LAWRENCE W PV2 2/13/51 Worcester, MA
PRESCOTT, DELBERT F PFC 2/13/51 Custer, NE
PRINCE, WADE JR PFC 10/8/51 Harris, TX
PRUNIER, HARRY C CPL 2/13/51 Clackamas, OR
PUCKETT, DEWEY R CPL 2/13/51 Tazewell, VA
PULLEY, JACK C CPL 2/13/51 Halifax, NC
PUTMAN, LINZY L PV2 2/13/51 Franklin, NY
RACICH, JOHN SFC 2/13/51 Pierce, WA
RAWRYNKIEWICZ, CHESTER PFC 2/13/51 ALLEGHENY, PA
REDDICK, FRANK T SGT 2/13/51 Allegheny, PA
REESE, JODIE S PFC 8/11/50 Pittsburg, OK
RESCH, LOYD A SGT 2/13/51 Contra Costa, CA
RHODES, NORMAN N SGT 9/2/50 Chippewa, MI
RIGHTS, GEORGE L PV2 2/13/51 Forsyth, NC
RINER, LUTHER C CPL 2/13/51 Emanuel, GA
RIVARDO, LOUIS SFC 2/13/51 Westmoreland, PA
RODEN, TRACY R PFC 8/11/50 Sevier, AR
ROMINGER, LUTHER V SFC 2/13/51 Sedgwick, KS
RUBIDEAUX, DONALD J CPL 11/30/50 Los Angeles, CA
SAFFORD, JOSEPH H PFC 2/13/51 Chittenden, VT
SAMPSON, GEORGE L PFC 2/13/51 Daviess, KY
SANDOVAL, FRANK L PFC 2/13/51 Bexar, TX
SARNO, JOHN E PFC 2/13/51 061, MD
SAUNDERS, JACK J 1LT 2/13/51 Weber, UT
SCALF, JOE R CPL 2/13/51 Floyd, KY
SCHLEGEL, CHARLES B CPL 2/13/51 Flathead, MT
SCHROEN, FREDRICK E PFC 2/13/51 La Salle, IL
SHELTON, CHESTER W PFC 2/13/51 002, CO
SIKORA, JOSEPH C SFC 2/13/51 Worcester, MA
SIMPSON, WILLIAM W SGT 2/13/51 Providence, RI
SMITH, GERALD L SGT 10/7/51 Lenoir, NC
SMITHERS, FERMAN T PFC 2/13/51 Robertson, TX
SNIDER, ARLON P PFC 2/13/51 Baltimore, MD
SNIDER, ROBERT I SFC 2/13/51 Greene, MO
SOMMERVILLE, CECIL PV2 8/11/50
SPENCE, RICHARD L PFC 2/13/51 Wythe, VA
STALLINGS, ERNEST E CPL 8/12/50 Thurston, WA
STARKEY, JUNIOR D PFC 2/13/51 Wetzel, WV
STEDMAN, GERALD F SGT 2/13/51 067, AZ
STEINBERG, JOSEPH D SGT 2/13/51 San Francisco, CA
STOTLER, CHARLES H PFC 2/13/51 Washington, MD
STROUP, ROY A CPL 2/13/51 Gaston, NC
SWEENEY, JOHN R PFC 2/13/51 Camden, NJ
THOMAS, ROBERT C JR PFC 2/13/51 Frederick, MD
THOMPSON, LEE J CPL 2/13/51 Spokane, WA
THORNBURG, CLYDE SFC 2/13/51 Franklin, LA
TITUS, DAVID B 2LT 8/9/50 Lawrence, SD
TUCKER, LLOYD L PFC 8/11/50 Van Zandt, TX
TURNER, WINSTON M CPL 2/13/51 Elizabeth City, VA
USTICK, ROBERT F SGT 2/13/51 Nassau, NY
VANEEKHOVEN, RICHARD PFC 2/13/51 Mercer, NJ
VERGARA, ELISEO C PFC 2/13/51 Nueces, TX
VESTER, JOHN W CPT 2/13/51 Somerset, NJ
VRANIC, ANTHONY PFC 8/11/50 Sheboygan, WI
WAGNER, RICHARD H CPL 2/13/51 Addison, VT
WARD, DONALD J PFC 2/13/51 Tulsa, OK
WATSON, THOMAS H PFC 2/13/51 Harlan, KY
WATSON, VERNON CPL 2/13/51 Morgan, KY
WHITECOTTON, ORBIA SGT 2/13/51 Pope, AR
WICHMAN, ROBERT J SGT 2/13/51 Douglas, NE
WILEY, FARREL K PV2 2/13/51 Rowan, NC
WILLIAMS, DONALD R CPL 8/11/50 Van Buren, AR
WITKOWSKI, STANLEY PFC 2/13/51 Erie, PA
WOLFE, LLOYD E PFC 2/13/51 Floyd, IN
WOOD, KENNETH E SGT 2/13/51 Newaygo, MI
WOODWORTH, RICHARD SFC 2/13/51 Los Angeles, CA
WOOSTER, AUDREY H SGT 2/13/51 Nueces, TX
YORK, MELVIN D PFC 6/2/51 Grays Harbor, WA
YOUNG, WALTER R PFC 2/13/51 Montgomery, PA

Complete list of 499 Korean War casualties (offsite)
---

CPL Jay Eugene Beck, Mc Kean, Pennsylvania, Born 1931, Died of Wounds February 16, 1951
Corporal Beck was a member of Headquarters Battery, 15th Field Artillery Battalion, 2nd Infantry Division. He was seriously wounded by the enemy near Hoengsong, South Korea on February 13, 1951 and died of those wounds on February 16, 1951. Corporal Beck was awarded the Purple Heart posthumously.
Photo provided by the Beck Family
---
CPL Michael Gannon, Cuyahoga, Ohio
Born 1927, KIA February 13, 1951
Corporal Michael Gannon was originally from Achill Island, County Mayo, Ireland
Photo provided by Victor Gannon (nephew)
---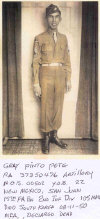 MOS 00502 Born 1922
New Mexico, San Juan
Died 8-11-50
MIA, Declared Dead
---
Update 2013:
Here is some news of interest to the 15th Field Artillery Association and website:
The remains of Sgt. Joseph D. Steinberg, C Battery, 15th FA BN, 2nd ID were recently identified and will be interred near his home town of San Francisco, CA sometime this summer, 2013. Sgt. Steinberg was captured during the Battle of Hoengsoeng on Feb. 13, 1951 and declared dead on April 1 of that same year. His remains were identified by the DPMO on May 30, 2013. The DPMO announcement can be seen here: http://www.dtic.mil/dpmo/accounted_for/
The remains of PFC James R. Hare, B Battery, also lost on Feb. 13, 1951 have also been recovered and were identified on Jan. 19, 2013. Other members of 15th FA BN whose remains have been recently identified are Cpl. Eugene Morelli, PFC George Porter, 1st LT Jack Saunders.
Sgt. Steinberg was the best friend of my father, Sgt. Joseph Garrett (also C Battery, 15th FA BN) at Ft. Lewis before the Korean War and during the summer and winter of 1950-1951. My mother was roommates with Sgt. Steinberg's fiancée and my father met her when he and Sgt. Steinberg had to quickly store their personal belongings and Sgt. Steinberg's car at the fiancée's apartment immediately before shipping out on the USS Buckner from the Port of Tacoma in late July, 1950.
submitted by: Joe Garrett

KOREA LINKS
Korean War History [1] [2] [3]