41ST ARTILLERY GROUP
Vietnam War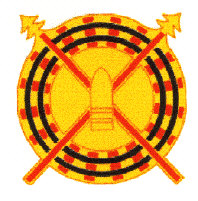 41st ARTY GROUP
Distinctive Unit Insignia

Distinctive Unit
Insignia Symbolism
Red and yellow (gold) are the colors for Field Artillery organizations. The predecessor organization, the 41st Coast Artillery Regiment, was the Hawaiian railway regiment, which is represented by the track, Hawaiian spears and projectile.
Image and text credit: Institute of Heraldry
Department of the Army

Shoulder Sleeve Insignia

Shoulder Sleeve
Insignia Symbolism
Scarlet and yellow are the colors associated with Field Artillery. The gun tube alludes to the howitzers and the flashes symbolize speed, accuracy and shock.

41st Artillery Group (Field Artillery)
29 April 1967 - 15 November 1969
The following artillery battalions served at one time or another under 41st Artillery Group control:
7th Battalion, 13th Artillery
5th Battalion, 27th Artillery
7th Battalion, 15th Artillery
1st Battalion, 30th Artillery
2nd Battalion, 17th Artillery
6th Battalion, 32nd Artillery
3rd Battalion, 18th Artillery
4th Battalion, 60th Artillery
5th Battalion, 22nd Artillery
6th Battalion, 84th Artillery
Attached to the 41st Group: Battery B, 29th Artillery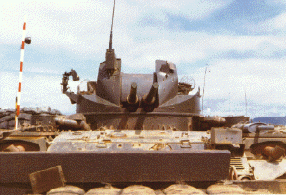 Photo credits: 15th webmaster ©1971
(above) Twin-40mm Duster defending RSB Schueller in late `71
(below) Spotlight mission - Main Gate - Artillery Hill - Spring `71
---
Two photos of Gun 6
C Battery, 2/17th Artillery
1970
Near Ban Me Thout
RVN

Photos courtesy of Mike Burke
---
INDEX OF PAGES
FIRST FIELD FORCE VIETNAM ARTILLERY
SECOND FIELD FORCE VIETNAM ARTILLERY
XXIV Corps Artillery
23rd Artillery Group
41st Artillery Group
52nd Artillery Group
54th Artillery Group
97th Artillery Group
108th Artillery Group
Complete list of Vietnam Artillery Units