52nd ARTILLERY GROUP
Vietnam War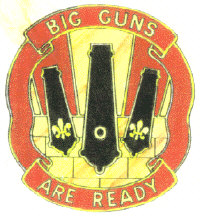 Image and text credit: Institute of Heraldry
Department of the Army

Distinctive Insignia Symbolism
Scarlet and yellow (gold) are colors used for Artillery. The three cannon barrels symbolize the Group's fire power and battle honors Meuse-Argonne, Champagne 1918, World War I, and service in Vietnam. The masoned wall refers historically to the parent unit organized in 1917 at Fort Adams, Rhode Island as a coast artillery unit.

52nd Artillery Group (Field Artillery)
"Big Guns Are Ready"
17 June 1966 - 30 June 1971
The following artillery battalions served at one time or another under 52nd Artillery Group control:
3rd Battalion, 6th Artillery
5th Battalion, 22nd Artillery
7th Battalion, 13th Artillery
1st Battalion, 30th Artillery
6th Battalion, 14th Artillery
6th Battalion, 84th Artillery
7th Battalion, 15th Artillery
1st Battalion, 92nd Artillery
2nd Battalion, 17th Artillery
BIG GUNS WERE READY!

M110 Howitzer ( 8-inch SP ) B Battery
First Field Forces Vietnam
7th Battalion, 15th Field Artillery
RSB Schueller Fall 1971
Photo: ©15th webmaster


The 'sound effects department of Pleiku'
1st of the 92nd Field Artillery
If anyone has a good sound cassette of artillery fire
of the 1/92nd please contact the 15th webmaster


Bravo Battery
6th of the 14th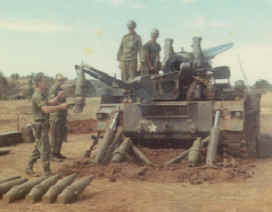 B Battery
6th Battalion
14th Artillery
Loading 175mm
"BRUTE"
November 1965
Photo: Bob Lund
52nd 52nd GROUP%2 STORIES
52d Gp Gets Valorous Award 52nd Group Returns to Fort SillGROUP STORIES

The following article appeared in the February 25, 1971 Artillery Review newspaper, a publication of I Field Force Vietnam Artillery.
PLEIKU -- By direction of the Secretary of the Army, the Valorous Unit Citation has been awarded to Headquarters and Headquarters Battery, 52d Artillery Group, and its assigned and attached units, according to a recent announcement.
The unit distinction was made in recognition of extraordinary heroism while engaged in military operations against an armed enemy in the vicinity of Dak To and Ben Het during the period 4 May 1969 to 28 June 1969.
Other Units Cited
In addition to HHB, 52d Arty Group, the following assigned or attached units were recognized for their heroic service: 1st Battalion, 92d Artillery; Battery A, 3d Battalion, 6th Artillery; Battery B, 6th Battalion, 14th Artillery; 2d Platoon, Battery B, 4th Battalion, 60th Artillery; 1st Platoon, Battery B, 7th Battalion, 29th Artillery; 2d Section, Battery E, 41st Artillery, 237th Field Artillery Detachment (Radar) and 254th Field Artillery Detachment (Radar).
Action Commended
In part the citation read: "Demonstrating great personal fortitude and a firm dedication to mission accomplishment, the officers and men of the battery succeeded in providing massive quantities of accurately placed artillery fires in support of manuever operations conducted by Army of the Republic of Vietnam units against North Vietnamese Army Forces.
"Although often forced to engage in hand to hand conflict with a well trained and determined foe, the men of HHB, 52d Arty Group continued to perform their assigned task by placing withering fire upon the enemy. Their gallant efforts saved the lives of numerous friendly forces, inflicted severe losses upon their adversary and contributed immeasurably to the successes achieved in Operation Dan Quyen."
---
The following story appeared in the August 25, 1971 issue of the Artillery Review newspaper.
52nd Group Returns to Fort Sill
In a continuation of the U.S. troop redeployment from Vietnam, and the down-grading of the U.S. combat role under Vietnamization, the U.S Army's Headquarters Battery, 52nd Artillery Group, has been returned to Fort Sill, Oklahoma, for inactivation. 52nd Group Headquarters thus follows the I Field Force Provisional Artillery Group Headquarters, which was deactivated on March 30th of this year, and with which it shared control of U.S. Artillery units throughout South Vietnam's MRII.
From its headquarters at Artillery Hill in Pleiku, 52nd Group controlled U.S. Artillery of I Field Force Vietnam throughout the Central Highlands and the rest of northern MRII. The numerous battalions it directed backed up its motto "Big Guns are Ready" by providing vital support for the operations of the 1st Cavalry Division, the 25th Infantry Division, the 101st Airborne Division, the 4th Infantry Division, the ROK White Horse and Tiger Divisions, Task Force 19, the 173rd Airborne Brigade, ARVN II Corps, the 22nd and 23rd ARVN Divisions. In all, 52nd Group supported more than 22 major operations, including the Cambodian incursion of 1970 and the more recent battle for Fire Base 6.
The 52nd Artillery Group was organized as the 52nd Artillery Regiment, and was assigned to France during World War 1. In 1924 the regiment was redesignated as the 52nd Artillery Regiment (Railway), but was disbanded in June 1943. In June of 1950 it was reactivated as the 52nd Artillery Group and stationed at Fort Sill, Oklahoma, where it activated and trained units for world-wide deployment of the huge 280mm "Atomic Artillery" weapon. In 1954 it received additional units of the Self-Propelled 762mm Rocket "Honest John".
During the initial Vietnam buildup in early 1966, Headquarters and Headquarters Battery, 52nd Artillery Group, left Fort Sill for Fort Lewis, Washington. In June of that year, the officers and men of the group boarded the USS WALKER for the trip to Vietnam, landing at Qui Nhon on June 17, 1966.
52nd Group's commander at the time of stand-down was Colonel James M. Wroth, who accepted, on behalf of the unit, the Meritorious Unit Commendation and the Vietnamese Valorous Unit Award. Colonel Wroth also received the Legion of Merit and the Air Medal for his efforts as Group commander.
The unit was reduced in-country to a two man color guard, composed of Major Edgar E. Wiseman and CSM Clarence J. Martin, who will return the unit's standard to Fort Sill. CSM Martin, then in his first Vietnam tour, also escorted the unit's colors when they entered Vietnam in 1966. Other personnel of the unit have been reassigned within the Republic or returned to CONUS under normal stand-down criteria. Approximately 109 space reductions were involved.
Railway Coast Artillery
Patch from WW-1
---
INDEX OF PAGES
FIRST FIELD FORCE VIETNAM ARTILLERY
SECOND FIELD FORCE VIETNAM ARTILLERY
XXIV Corps Artillery
23rd Artillery Group
41st Artillery Group
52nd Artillery Group
54th Artillery Group
97th Artillery Group
108th Artillery Group
Complete list of Vietnam Artillery Units