97TH ARTILLERY GROUP
Vietnam War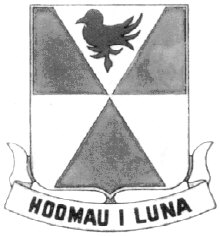 Image credit: Institute of Heraldry
Department of the Army

Hoomau i Luna
"Always On Top"
Distinctive Insignia Symbolism
The shield is red and yellow for Artillery. The partition of the shield "gyronny" symbolizes the organization's place of activation and home station, Hawaii, as the "Crossroads of the Pacific." The martlet in having no feet symbolizes that the organization did not remain in one place during World War II and alludes to the Central Pacific, Leyte and Ryukyus campaigns in which it participated.

97th Artillery Group (Air Defense Artillery)
"Hoomau i Luna" (Always On Top)
30 September 1965 - 25 October 1968
The following HAWK missile artillery battalions served at one time or another under 97th Artillery Group control:
6th Battalion, 56th Artillery 6th Battalion, 71st Artillery
Thanks to Eddie Donato for sending
the following photos of
D Battery, 6th Battalion, 56th Artillery
Eddie also added this background information:
"When I went over in '68, all the 56th Artillery (Hawk)
was around Saigon. Later all the Batteries, except C,
were moved up north. Towards the end of '69 they
were one of the first units pulled as part of Nixon's
troop withdrawal."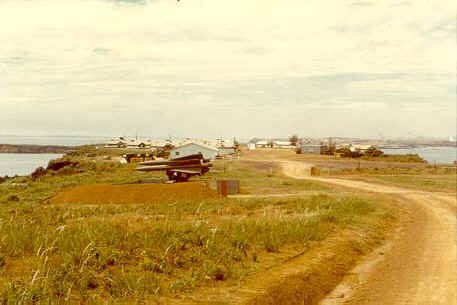 This battery was located on an island just off Chu Lai.
The island hugged the coast and was shaped
something like an hourglass.
Photo: Eddie Donato


One rocket launcher on left -
battery housing on the right
Photo: Eddie Donato


Rocket launchers
Photo: Eddie Donato


Close up photo
Photo: Eddie Donato


INDEX OF PAGES

FIRST FIELD FORCE VIETNAM ARTILLERY
SECOND FIELD FORCE VIETNAM ARTILLERY
XXIV Corps Artillery

23rd Artillery Group

41st Artillery Group

52nd Artillery Group

54th Artillery Group

97th Artillery Group

108th Artillery Group

Complete list of Vietnam Artillery Units