Vietnam War - 6/15th
15th Field Artillery Regiment
INDIANHEADS

Vietnam War - 6/15th
"Deadly"

The 6th Howitzer Battalion (105mm) (Towed), 15th Artillery, was reactivated at Ft. Sill, Oklahoma, 1 December 1966, specifically to provide additional fire support to the 1st Infantry Division. The Battalion Commander was LTC Frank E. Serio.

On 1 May 1967, the Division departed Ft. Sill for Vietnam via rail and aboard the ship USNS Gordon. Division Headquarters was established 26 May 1967 at Lai Khe.
On 17 October 1967, 2nd Lt. Harold B. Durham, Jr. distinguished himself by conspicuous gallantry while assigned to Battery C, 6th Battalion, 15th Artillery. 2nd Lt. Durham was serving as a forward observer with Company D, 2nd Battalion, 28th Infantry during a battalion reconnaissance-in-force mission. 2nd Lt. Durham's gallant actions in close combat earned him the Congressional Medal of Honor, but cost him his life.
On 28 July 2000, the 2nd Bn, 15th FAR, located at Fort Drum, NY, dedicated their Headquarters Building as
Durham Hall
in honor of 2nd Lt. Harold "Pinky" Durham. Additionally, an M102, 105mm Howitzer was named "PINKY" in honor of 2nd Lt. Harold "Pinky" Durham, complete with 6th Bn, 15th FA bumper markings.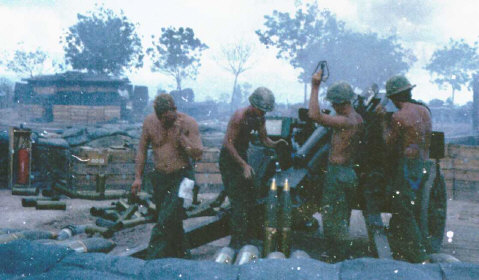 The 6th Battalion, 15th Artillery participated in most of the 1st Infantry Division's major battles under the call sign "Deadly". The men distinguished themselves at Quan Loi, Da Yeu, Ong Thanh, Loc Ninh, An Loc, Srok Rung, Xa Cat, Tong Le Chon, Bu Dop, Hill 172, and numerous others. The 6/15th served in nine major campaigns from May 1967 to November 1969:
Counteroffensive, Phase II
Counteroffensive, Phase III
Tet Counteroffensive
Counteroffensive, Phase IV
Counteroffensive, Phase V
Counteroffensive, Phase VI
Tet 69/Counteroffensive
Summer-Fall 1969
Winter-Spring 1970

"Deadly" gained a reputation throughout the Division for being quick, accurate, and deadly.


A-6-15th FA firing in support of the US Special Forces
near the Cambodian Border at Katum 1969
Photo: The Field Artillery School and Mac McGuffin

The Fire Mission
By Jim Carlina
A Tribute to an Artillery Battery
Battery Adjust!
Where were they headed?
Carriers of a piece
of the end for someone.
Now fire G.I., yes fire
At our command,
fuse timed, fuse quick.
shell HE and WP
Or spread them out,
A thousand little darts
One for each Gook
Who doesn't knock.
Let them go,
One hundred rounds more.
Getting closer to the end of this war.
Clanking of spent canisters
thrown in the rubble.
More boxes of ammo,
the cure for this trouble.
Don't cut a wrong charge,
And send a short round.
Don't want to hit friendlies,
Taking enemy ground.
Forced to kill V.C.;
they are not people.
They all have one name,
Its Charlie.
And Charlie is out there,
So they said.
We can't see him.
Don't know if he is dead.
FDC only says,
Now cease fire G.I.,
And clean up the mess.
Left wonder about our success.
There will be another fire mission.

THE DEFENSE OF SAIGON

On 8 June 1968, the 6th Battalion 15th Field Artillery was ordered to Saigon where the Battalion Operations Element (BOE) was directed to become the Fire Support Element for the newly activated Capital Military Assistance Command (CMAC). The mission of CMAC was to coordinate the defense of Saigon during Tet 1968. On 9 June the Battalion moved to Newport Bridge and Tan Son Nhut. Its principle mission was the defense of Saigon against rockets and mortars.

To accomplish this unusual mission, the Battalion placed personnel with optical instruments and prefabricated aladades on the tops of tall buildings and in towers throughout the city A counter rocket and mortar program consisting of known and suspected launch sites was quickly developed and disseminated to all clearing agencies.

To decrease reaction times to an attack, the Battalion employed the technique of "quick reaction targets" which it had initiated at Lai Khe and Phouc Vihn. Aerial surveillance corridors were also established and all radars in the area were given pointing azimuths to insure optimum and maximum coverage of rocket areas around Saigon. Everything was "wired in" to the BOE.

The Battalion's planning was successful. During the period of 10 June through 25 July the target acquisition systems employed by the Battalion successfully identified enemy firing locations as soon as they began firing and the firing batteries either dispersed or destroyed them through the use of quick reaction fires.

Upon its release from CMAC to resume its more tradition Field Artillery mission in III Corps, the Battalion was commended for its outstanding performance of duty in the destruction of the enemy's capability to harass and terrorize the people of the city of Saigon during Tet 1968 by MG John B. Hay, CG, CMAC.

Anonymous. Hellfire Herald, 6th Bn, 15th FA, RVN, 30 August, 1969
THE GUN CREW

In the organization of the Army each of the Combat Arms have their own unique tight knit groups. The Armor has its Tank Crew, the Infantry has its Squad and the Field Artillery has its Gun Crew. But nowhere in the Field Artillery will you find a more closely-knit group than the gun crew.

These men live and work together 24 hours a day. When a fire mission is called these men make one of the finest, most organized teams in the Army. They know their jobs and they realize that lives depend on their speed and accuracy. The deflection and quadrant elevation must be set correctly; the bubbles must be leveled; the fuzes must be set correctly; the number of powder bags must be correct. Everything must be correct if the round is to be accurate, on time and on target. Lives may depend on it! When the entire battery is firing, the rivalry and tension can be felt between each gun crew.

Helmets lined up on a gun parapet tell the story of action seen; of "short timers" and new arrivals, through the shade of color of the camouflage covers. While Fire Missions show the professionalism of the group, the time between fire missions shows how close they are as buddies. If a man needs money, his buddies see that he has it. They share their letters and their Care packages from home, their cigarettes and their beer. Men who live with each other know when its time to be quiet or time to cut up. Their friendship and professionalism is evident in the way they deal with each other, day and night, through good times and bad. They exchange addresses and phone numbers and promise to get together when they get back to the "world". Some do, but unfortunately, most do not. But while they are together as members of a gun crew, they are one of the finest teams in the Army.

Anonymous. Hellfire Herald, 6th Bn, 15th FA, RVN, 9 August, 1969

The above two documents were contributed by John Sarantakes.
6/15th LINKS
2LT Durham - Medal of Honor
"The work for giants... to serve well the guns!"
Walt Whitman