Tom Hazzard
OH-58 Crew Chief
7th Bn, 15th Field Artillery
1970 - 1971
SUNDOWN was his radio call sign

IN MEMORY OF TOM

by Spencer Hazzard
Once each year, on the 3rd Monday of April, the organization know as The VIETNAM VETERANS MEMORIAL FUND conducts a ceremony called IN MEMORY. It is a ceremony held to remember and honor the Vietnam Veterans who came home from the war and later died as a result of their service in Vietnam.
The 2003 ceremony was held on April 21st. Almost 400 Veterans were honored. One of them was my brother, Thomas G. Hazzard. Tom served with the 7th Battalion, 15th Field Artillery in Vietnam from 1970 to 1971.
The ceremony was conducted by Jan Scruggs, Founder & President, Vietnam Veterans Memorial Fund. Speakers included David Addlestone, Founder and Co-Director National Veterans Legal Services Program, Inc and Lt. General John S. Caldwell, Jr. Military Deputy to the Assistant Secretary of the Army for Acquisition, Logistics and Technology. He graduated from West Point in 1967 and served with the 11th Armored Cavalry Regiment in Vietnam. Singer & song writer, Chuck Price, a U.S. Navy Veteran sang "The Unsung Heroes." A song about honoring and remembering Vietnam Veterans.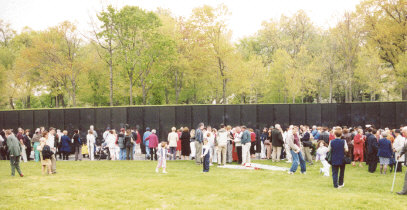 It was a gloomy cold and wet morning before the ceremony started, but as the program began the sun came out to warm everyone. Jan Scruggs did all the introductions and also informed us that funds have been approved and there will be a Visitors Center built at the Vietnam Memorial.
After the speeches the names of 387 Veterans were called out by friends & family. There were hundreds of chairs set up in the grassy area just east of The Wall. Around the seating area, placed in the grass, was a tribute (a packet of pictures & information about each person honored ) hanging from a small wire rack. A family member stood behind each tribute.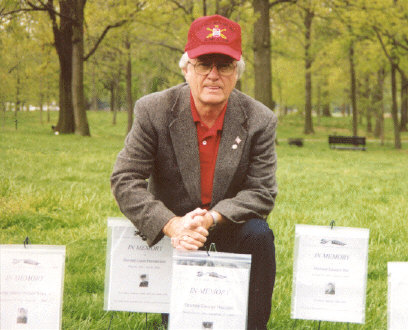 A hand-held microphone was passed from one family to the next. Each family member announced the name of their loved one and said a few words about them. It was very obvious, from words spoken, that agent orange is still a major problem. Emotions felt by one were felt by all. The grief of having lost a loved one and the pride of being able to honor them in this way.
When the microphone was handed to me, I announced the name of my brother Thomas George Hazzard and said I hoped he was flying once again with his pilot, Stephen Sellett, who died in Vietnam. It was also my wish to honor Tom's friends of the 7th and 15th. I wore the artillery red cap with the 15th Field Artillery logo on it.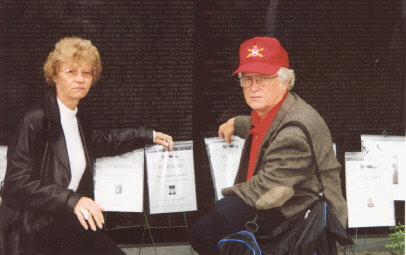 After the last name was called, each family picked up the tribute, walked down to the wall and placed the tribute at the base of the panel which represents the time of their service in Vietnam. Tom's tribute was designated for panel 11w. (each panel is numbered and is either west or east) I placed his tribute at panel 6w. As I set the tribute down I placed my hand on line 102 of panel 6w. On the name of Tom's pilot Stephen Sellett. The helicopter crash that killed WO Sellett stayed with Tom the rest of his life. The tributes left at The Wall are now a permanent part of the Wall archives.
There are no words to describe the emotions of this day and this moment. Tears of sorrow have turned to tears of pride. The ceremony came to an end as families lingered at The Wall; taking pictures and comforting each other. Then, as if on cue, the rains started again.

INTERSTATE STATE PARK
Tom and Spencer in Taylor Falls, Minnesota. The park was founded by their great grandfather George H. Hazzard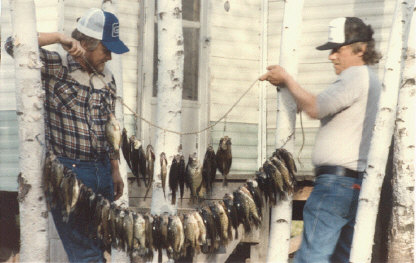 EMPTYING THE LAKE
Spencer & Tom


Grace and Tom
At the first Vietnam Reunion
1992
Pittsburgh, Pennsylvania


---
REMEMBRANCE
The following remembrances were written following Tom's death.
The first was written by his brother Spencer and left at the Minnesota Vietnam Veterans Memorial.

Thomas George Hazzard
11-21-51 "WOLFMAN" 12-20-94
My little brother Tommy went to Vietnam in 1970.
He never came back.
It was my Big Brother Tom who returned in 1971.
We were very grateful that he came back unharmed.
Little did we know.
We did not see his pain.
He suffered most of the past 20 years.
Now his pain is over and mine has just begun.
I miss you Tom; your friends miss you.
We all love you.
Never again can we cry: "Wolfman to the rescue"
(Tom was known as 'Wolfman' to his friends back home)
To all who read this
Tom was one of the workers who built this memorial. He was very proud to be a part of it. As we stood here on dedication day he said: "This is to honor those who died in Vietnam. I hope someday they will honor the vets who came home."
I pray that all of you will answer his call. Show your love and appreciation to those who served and came home.
Spencer Hazzard
---

The second is a poem written by a comrade who served with Tom in 1971 on Artillery Hill near Pleiku, Vietnam.

"SUNDOWN"
by Robert Donnan

In memory of Thomas George Hazzard
November 21, 1951 - December 20, 1994
I wasn't in Tet
But flew to Ben Het
Too many times
In my dreams
First flight unflown
Redlegs I've known
Twenty-three years
In my dreams
Four crashing vets
Winter night sweats
The December 1st
In my dreams
Sundown we mourn
Then starkly adorn
One suicide
In our dreams
This time a friend
When will it end?
The Highland war
In our dreams
Pray for the day
A Home far away
From the Vietnam
In our dreams
---


LINKS