IRAQ WAR
2nd Battalion, 15th Field Artillery
2-15 in Kirkuk with a captured Iraqi D-30 artillery piece


2nd Bn, 15th FA in Northern Iraq with members of the Kurdish Militia
near an Iraqi Prison that was liberated by Coalition Forces.
Members of the 2nd Bn, 15th FA are CPT Murray, 1LT Freund, 1LT Peter,
1LT Mcain. Kurdish Militia members are unknown. (Circa. April 2003)
---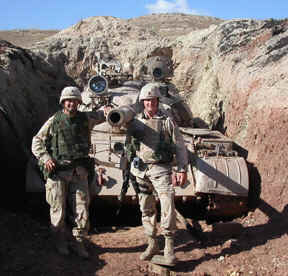 LTC Turinski with Air Force LTC Brooks
---
IRAQ OPERATIONS for the 2-15 FAR:
Flew into Bashur Airfield 27 March.
Conducted combat operations vicinity Irbil.
Shifted base of operations to Kirkuk around 10 April.
---
2/15th FAR attached to the 173rd Airborne
Photos of Iraq - 2003
173rd Abn Bde Troopers dispensing water
to Iraqis near the sports stadium
Kirkuk 17 April 2003
Iraqi T-72 Tank in Kirkuk
Under control of the 173rd Abn
around 16 April.

Oilfield outside Kirkuk
taken by the 173rd Airborne
early April 2003
---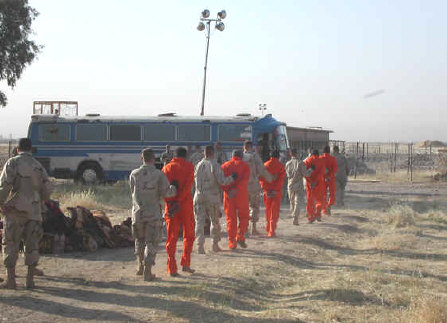 2-15 FAR Escorts Detainees To Tikrit
Posted June 7, 2003
Kirkuk, Iraq – Recently the 2-15 Field Artillery Regiment has been conducting a wide array of activities. While maintaining security, radar coverage, howitzer firing capability, and conducting presence patrols in Kirkuk, the 2-15 FAR team has been tasked with the security and management of the Camp Bayonet Detention Facility.
Attached to the 173d ABN BDE out of Vicenza, Italy, 2-15 FAR has been given the mission to secure the Camp Bayonet Detention Facility and conduct initial hearings with the detainees. The facility has already processed over 1,300 Iraqi detainees and has had over 300 occupants at one time.
---
15TH LINKS
2/15th - Fort Wainwright, Alaska
10th Mountain Division Association
US Army artillerymen killed in Iraq