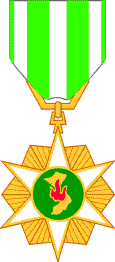 The
HIGHLANDER
7/15TH INDIANHEADS
VIETNAM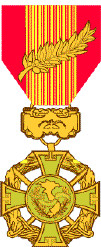 FIRST FIELD FORCES - VIETNAM - "First for Freedom"
41st ARTILLERY GROUP / 52nd ARTILLERY GROUP - "Big Guns are Ready"
7TH BN, 15TH FIELD ARTILLERY - "You Yell, We Shell Like Hell"
PHU CAT - AN KHE - PLEIKU - BONG SON - VIETNAM 1967-1971
"The Highlander Newsletter"
9343 W. Capitol Drive, Milwaukee, WI 53222-1534
Volume 14, Issue No. 1 May 2004ROBERT DONNAN - HHB and B Battery - 1971
Association Founder (1991), Former Highlander Editor, 15th Webmaster
fifteentharty@yahoo.com
LUIS CANTU - C Battery - 1971
Highlander Editor
1-580-536-9418 LVCANTU@aol.com
DAVE 'Davo' HOLDORF - C Battery - 1968-69
Group Leader, Former Highlander Editor
1-414-464-2939 hidavo@earthlink.net
DAN GILLOTTI - HHB - 1966-68
15th Historian, 2005 Reunion Host
1-440-934-1750 firstcav68@erircoast.com
NORM BARNES - HHB - 1967-68
Address Changes
1-928-472-9107 nlb@npgcable.com
MIKE DONLEY - C Battery - 1967-68
Treasurer, PX Sales
1-414-464-3041 crunz71@aol.com
NORM FORSYTHE - HHB - 1967-68
Association Contact Person
1-931-647-2408 nnforsythe@charter.net
---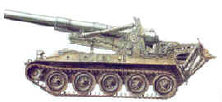 "REUNION
2005"

SPONSORED by the 7TH BN 15TH FIELD ARTILLERY
DATES TO BE ANNOUNCED (AUGUST 2005?)
CLEVELAND, OHIO
"It's never too early to plan to meet your buddy!"
Click here for REUNION 2005 UPDATES
---
"WELCOME HOME" ...
to the new members of the association! The Highlander is published through efforts of Editor Luis Cantu and our association leaders listed above.
ALL Vets are urged to participate by submitting letters/articles/photos for the news. You can also send "Davo" copies of old orders with names to search. This is YOUR newsletter, submit or voice your opinion on subjects you wish to have published.
Please Update your address changes ASAP! Once your forwarding address service expires, you're lost! The time it takes to find you can be used to find missing comrades.
We ask a $12 per year dues, preferred in January so we can plan our missions. All dues go toward newsletters to all, Vet searching, office supplies, and our Great Website located at http://www.15thfar.org. No salaries are paid to our all volunteer leadership.
Current member lists, and other lists are available upon request through "Davo" at hidavo@earthlink.net 1-414-464-2939 . New members are published in each issue.
Website information: History, Photos, Articles, Vet Benefits, and a Guestbook.
Best wishes,
Luis & the 15th Association Leadership
---

"INCOMING!"
New Members as of
1 November 2003
By: Davo
15



Allons!
Reminder: Those who "Opted Out" to Now receive the Newsletter via the website, UPDATE your E-mail addresses to receive Notice when it's posted!
Please Note: We do not list this personal contact information on the 15th website. If you would like to contact one of the individuals listed below, please phone or email Davo.7/15TH FIELD ARTILLERY:
Anderson, Mike L. 5-9/69 B-Btry. Sgt-5 13B, Bismarck ND
Beck, J.P. Judson 1964-66 Ft. Bragg, NC, Oklahoma City, OK
Bernreuter, William H. 1968 A-Btry. Sgt. O'Fallon IL
Brookins, Leon F. 1-12/68 HHB Sp-4 FDC Altamonte Springs FL
Celenti, Richard A. 1969 HHB Sp-5/Commo & 5/22FA Streetsboro OH
Chmiel, Frank 9/70-10/71 HHB Sp-4/Metro, Bakersfield CA
Clark, Carl M. 1-7/71 HHB Maj/S-3/XO, Richmond VA
Cooper, Milton 4-11/71 HHB SSG, Whittman AZ
Corsentino, Thomas A. 2/69-70 A/HHB Cpt/CO/Adj, Black Forest CO
Danielczyk, Ed J. 8/68-9/69 HHB 1LT/Commo, Prior Lake MN
Dellapenna, Gary A. 8-11/67 C-Btry. 13A Pfc., Ft. Myers FL
Dibbs, James J. 1969 A-Btry. 13B SSG, Mercer PA
DiFruscio, Albert M. 6-11/67 C-Btry. Sp-4 13E/XO Drvr, Lucie, FL
Findon, Gregory B. 3/68-6/69 HHB Sp-4 FDC, Wind Gap, PA
Forsythe, Gunter R. 6/67-1/68 C-Btry. Sp-5/Cook, Waunakee WI
Fuller, Israel I. 68-69 70-71 C-Btry. SSG/13B, Fayetteville NC
Gearhart, Dean L. 68-1/70 C-Btry. Sgt/13B Gun-4 "Nino," Andrews IN
Gonzales, Jose E. 69/70 HHB/Survey, Rio Rancho, NM
Ingram, General McArthur 1968 Svc-Btry. 13A Sp-4, Charlotte NC
Jacobs, John W. 68-9/69 C-Btry. 13B/Gun-2 & 2/32FA, Anniston AL
Johnson, Donald 1968 B-Btry. 36K Sp-4 & 5/22FA, Texarkana AR
Keller, James H. 5/68-7/69 A-Btry. Sp-4 Gun-1, Plymouth WI
Kennon, Jimmy R. 68-7/69 C-Btry. 13B/Cpl., Clay City KY
Kent, Victor 6/68-4/71 B-Btry. 13B/Sgt-5, Venice FL
Leyva, Jose A. 6/67-68 C-Btry. 13B/Cpl. Gun-4, Shallow Water TX
Lovett, Larry R. 69-70 HHB Sgt-5/Intell., El Paso TX
McNeely, James W. 1/68-70 A/B-Btry. 1LT, Greenville WV
Mills, Stanley R. 12/70-71 B-Btry. Sp-4 13A, Hopewell VA
Norman, Edmond 68-69/C, 71/A-Btry's 13B Sgt-6/7, Colorado Springs CO
Partridge, Edward F. 6/67-68 C-Btry. Sp-4 13A, Dekalb MS
Perdue, Chester 6/68-69 HHB Mechanic, Marianna FL
Peters, Ron J. 7-12/69 C-Btry. Cpt/CO, Kennesaw GA
Radtke, Daniel J. 2/69-4/70 C-Btry. Sgt-5/13B/8-inch, Bay City MI
Reinke, David G. 12/70-6/71 C-Btry. Sgt-5/13B/175mm, Algoma WI
Roller, Richard J. 6/67-2/68 HHB Sp-4 Clerk, N. Wales, PA
Sabella, Thomas M. 7/67-68 B-Btry. Sp-4 Ammo/Gun, Holbrook NY
Sammis, Frank Xavier 67-68 Svc/A-Btry. 1SG, Mililani HI
Sayers, Robert A. "Rocky" B-Btry. Pfc 13A/XO-Drvr, Bailey MI
Tedlock, Donald E. 3/68-9/69 C-Btry Sgt. 13B, Clinton Township MI
Thompson, Ronald H. 67-68 A-Btry. Sp-4 Supply, Cincinnati OH
Trotter, William 70-71 A-Btry. Sp-4 Gun-4, Bloomington IL
Underhill, Shelby I. 6/67-2/68 C-Btry. Sp-4 13A/Ammo-Drvr, Murray KY
Venclick, Emil L. 7/68-1/69 C-Btry. Sgt-5/13B "Click," Kenosha WI
Voss, Ray M. 8/67-2/68 B-Btry. Sp-5/82C & 6/32FA, Mokena IL
Yannariello, Basil 4/69-11/70 C-Btry. 13A, Edison NJ
Wamsley, Jerry E. 5/67-4/68 C-Btry. CO-Drvr, Gunthrie OK
Ward, Allen 64-66 A-Btry. Sp-4 Gun-Drvr, Des Moines IA
Wiedner, Jim 69-70 B-Btry. 13B/Cpl. Gillespie IL
( Serious Health problems, contact via "Davo" 1-414-464-2939 )
Wickline, John E. 6-12/70 B-Btry. Sp-4 13A & 5/22FA, Decatur IL
Woolard, Thomas E. 1/68-69 HHB Sp-5 Survey, W. Frankfort IL
Zinke, William 1-11/71 HHB 1LT/Survey, Lowell MI
2/15th Field Artillery:
Jones, Melvin 9/66-4/68 C-Btry. E-4 13A, Hendersonville NC
6/15th Field Artillery:
( Dick Brown, Gaither Kitchell, & Jonh Sarantakes are New 6th BN contacts. )
Brown, Richard F. "Dick" 6-11/67 HHB BN/S2 LTC, Ft. Leavenworth, KS
Kitchell, Gaither H. 10/68-9/69 A-Btry. Cmdr., Las Vegas, NV
Sarantakes, John E. 2-11/69 B-Btry. Cmdr., Lansing KS, LTC Ret'd
Deceased:
Frank R. Samples 68-69 HHB/B Med. Sect.
28 Oct. 48 - 26 Aug. 03 via Death Index Exact Match
Mrs. Mike S. Donley ( Carol Ann - 53yrs )
18 March 2004 Wife of 7/15th FA Association Treasurer.
Larlheinz Peter 67-68 HHB Cpt. S-1
29 July 38 - 2 Nov. 02 Orig. IL, Warren NJ.
SICK CALL:
Best Wishes to: Jim Huber after getting hit by an auto while walking. Jim Dibbs in re-hab after a stroke. Bill Miller 68-69 HHB FDC undergoing cancer treatment.
1964-66 7/15th FA FT. BRAGG Vets "WANTED" !!:
Jud Beck & Al Ward are looking for GI's they served with. They most likely did not go to Vietnam with the unit in June 1967.
7/15th FA LISTS Available:
Membership, E-Mails, KIA/Deceased. "NEW": MS Excel "Wanted" roster lists ALL Vets ( aprox. 2200 436-kbs ) not including those found or deceased. Data back to 4/67, but we have prior morning rosters from Jan-June 1966. Available to "Members Only", Free via e-mail. Large lists sent via the PO will have a small fee for copying and postage. The new "Wanted" list should make finding Vets easier & faster. YOU can help by sending in copies of rosters w/names, not ALL names appear on the rosters we have! PLEASE PARTICIPATE, Thank You! Davo
SPECIAL THANK YOU!
To those who continue to donate more than their fair share of dues so we can send newsletters to ALL of our comrades. "Thanks for the Ammo!" Davo
VA BENEFITS:
Send for Medical and Personal 201 File: On-line at: http://www.archives.gov/research_room/vetrecs/
Fax: 1-314-801-9195 or NPRC, Military Personal Records, 9700 Page Ave., St. Louis MO. 63132-5100 1-314-801-0800. Disability benefits/ALL service-connected health problems ANY time you served! NEW benefits: Children of Vets with many birth defects listed. Apply for medals! Contact your local Vet Org. or State Veterans Service Officer for help!
---
7/15TH FA MILITARY
REUNION
INFORMATION
"Answers to Frequently Asked Questions"
How often do you have reunions? The association now plans a reunion every two years.
How do you choose the location? Usually at the prior reunion, a volunteer steps forward.
What are reunion host qualifications? Good commo skills, a home computer, plenty of time.
Why have reunions been located near military forts? Greatest related schedule options.
How many Vets show up? The numbers keep growing, banquets are aprox. 150-200 w/spouses.
Will I know anyone? Most likely, but it's best to plan by calling your buddies well in advance!
How long do they last? Four days are planned, Thursday thru Sunday, some stay a bit longer.
Is four days enough? Some say NO! The time goes by very fast with lots to do and see.
Are reunions a big drunken party? Not hardly, some do stay up late after the Sat. eve banquet.
What do you offer for wives? Usually a Saturday day-time shopping or tour option.
Do you have a business meeting? Fri. evening or Sat. morning w/a reunion photo shoot after.
Do you have displays? Many! Vets Vietnam albums, memorabilia, KIA, Unit historical display.
Will there be PX items to purchase? Yes - Baseball caps, crests, pins, patches, bumper stickers, etc.
Do you have a memorial service? Always! Usually Friday or Saturday.
Will there be a "Live Fire" demonstration? Don't count on it, but we did have one in Ft. Bragg!
REUNION: DATES TO BE ANNOUNCED (AUGUST 2005?) IN CLEVELAND, OHIO
Reunion VOLUNTEERS are always needed! The wives always help in the hospitality room with snacks, food and beverages. Others are needed for: Senior Officer Host/Coordinator, Survivor Family Host, Banquet Host, Hospitality Suite Host, PX Sales, Raffle/Auction Host, Bus tour Captains, Memorial Service Chaplin, Host for Ladies.
Reunion costs vary, savings can be had by carpooling and sharing rooms.
Our next issue will contain more detailed information as we plan. …... Davo
See: 15th Reunions

A SOLDIER'S SOLDIER WITH NO WEAPON
Chaplain Don Shea
Picture Courtesy of Jean Pilk
It was late in the afternoon 33 years ago and I was checking the perimeter defense for our artillery battery at the base of the Deo Mang Yang Pass. As a First Sergeant, it was my job to make sure the perimeter was secure, before the night arrived, making sure that the machine guns were ready, the claymore mines were armed and that there were no holes in the concertina wire, in case of a Viet Cong attack. Highway 19 ran between Pleiku and Qui Nhon in front of our battery position. It was not unusual to see convoys of military trucks traveling the highway all day long delivering supplies and ammunition from the port of Qui Nhon to the Central Highlands. I noticed that one of the trucks from the convoy pulling over by the entrance to the battery position. From the distance, I observed what appeared to be a small soldier getting of the truck. The soldier had a backpack, but carried no weapon. In my mind I immediately judged the battalion headquarters as sending me a soldier unprepared, with no weapon and the basic military clothing missing. This was the beginning of a friendship between a First Sergeant and his Chaplain.
The Chaplain made visits to my battery, almost weekly. He always hitched a ride and never used his ¼ ton jeep. Although he was a Catholic Chaplain, outside his services you couldn't tell it. All the soldiers, Catholic and Protestants alike adored him as a Soldier's Soldier. He loved to play volleyball with our teams, even though we played by the jungle rules. He was always there when we needed him for spiritual support. When our Fire Direction Officer, Lt Gray was killed and several other soldiers were wounded by a rocket attack, the chaplain was in our battery location within a few minutes, coming by helicopter. The Chaplain's weapon was his field kit, a cross and a Bible.
In the military the leaders are trained to set the example for their subordinates. This Chaplain was no different. When in an airborne unit he jumped along side the soldiers. He spent more time overseas than in the United States during his military career of 37 years. He loved to be with the soldiers in the front lines in combat. He is a humble man and you would never know from him of the numerous decorations he received, to name a few, the Distinguished Service Medal, Parachute Badge and the Purple Heart. You won't find a book on his life. In fact, you will find very little on the Internet on this Chaplain. Yet, to this retired Command Sergeant Major, I will always treasure the time that I spent with this Chaplain and the spiritual comfort he gave me. First knowing him as Chaplain, Captain, and than seeing the President of the United States promoting him to Major General and Chief of Chaplains was no surprise to me. Now he is retired from the US Army and a Monsignor in Butte, Montana. Yes, Chaplain Donald Shea was a true soldier's soldier and the 7th Battalion 15th FA was proud to have had this chaplain assigned to them during the Vietnam Conflict.
Luis Cantu
Editor
Artillery Hill Chapel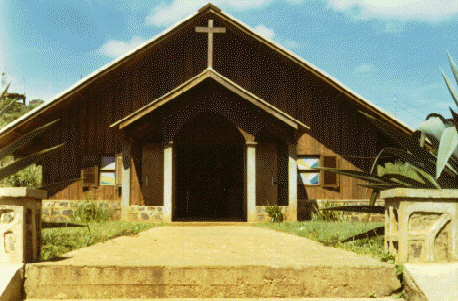 Photo: Robert Donnan - 1971
---
7/15TH FIELD ARTILLERY "DUES" & "PX" SALES COUPON
The Assoc. asks a $12 per year donation for Vet Searches, Website, Newsletters & Office Expenses. "NO" salaries are paid to our ALL Volunteer Leadership! Checks are made to: 7TH BN 15TH ARTY ORG. Mail form to our treasurer Mike Donley 4207 W. Reichert Place, Milwaukee, WI. 53209-3947 1-414-464-3041 cruzn71@aol.com
—————Clip Here or Copy—————
Name: _____________________________ Mid: ____
Last: _________________________________________________
Addy: ___________________________________________
City: _________________________ St: ___ Zip: ________
15FA: mo/yr-mo/yr _________________ BN: ___ Btry: ____
Rank: ______ MOS/Job: ________________________
Phone: _____________________________________
E-Mail: ________________________________________________
( )$12 Dues ( )$ ? Additional Donation ( ) Relatives of Deceased FREE! "PX Items": ( )$12 Patch
( )$15 Baseball Cap ( )$6 Original Unit Crest ( )$4 Lapel/Tie-Tack Unit Crest ( )$10 Bumper Sticker
( )$6 Combat Arty. Badge Pin ( )$15 Set of 3: 1/2-Inch Gold Unit Numbers, 1 & 5 + Circle BN:: 1, 2, 5, 6, 7.
( )$27 "Special" Baseball Cap w/# Pins Shipping Included! View Items at http://www.15thfar.org under "PX"
( ) I 've Found & Enclosed old orders/rosters with names to Search! THANKS for the AMMO! …..Mike & Davo

---
NEWSLETTER ON THE WEB
In April we started posting The Highlander newsletter on the 15th Web site. If you have a computer and have internet capabilities you can download the Newsletter in color and read it approximately two weeks earlier than the members receiving the Newsletter by regular mail.
If you want to cancel the snail mail and only read it on the web, please notify Dave or Luis . We will notify you by email as soon as each Newsletter is posted on the web. You will be saving the organization approximately $1.30 if you decide to cancel the regular mail Newsletter. (At the present time we have 21 members that have elected to read the NL on the web and cancel their mail NL.)
To see the Newsletter on the web: Type in: newsletter.html
Regardless, of what you decide to do, please let us know how you like the Newsletter on the Web. We owe a lot of thanks to our webmaster Bob Donnan.
Luis
Editor
---
Editor's Comments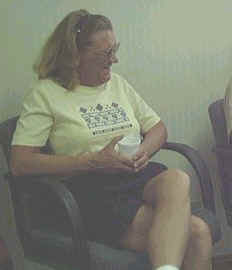 CAROL ANN DONLEY
"God saw that she was getting tired, and saw a cure was not in sight so he picked her up and said daughter you have suffer enough." Carol, wife of Mike Donley died on 18 march 2004. Carol, as we remember her was a shy person. However, we could tell that she was very devoted and supportive of her husband. Virginia and I had the opportunity to meet and see Carol on all three of our reunions.
Mike and his family
want to thank all the
members for all the
Emails, cards,
telephone calls and
flowers.
---
I lost many years...
not belonging to Vietnam Chapters and associating with members that I had served with in Vietnam. I had in my mind that Vietnam Chapters and Vietnam Reunions were being attended by Veterans that were still on dope and I was not going to have anything to do with this kind of people.
How wrong I was. At my first reunion with Veterans of the 7th Bn, 15th FA I met some the finest professional people. Last year I attended my third reunion and they get better every time. ( I even hosted one of the reunions. )
I even had many spouses tell me that for the first time their husbands had opened up and started talking about their experience in Vietnam. They were observing their husbands experiencing the joy of talking to friends that they had not seen in 30 years or more.
If you have been thinking about coming to a reunion and you are afraid of the quality of people or that rank will be an issue, I can assure you that these reunions are family oriented and every one is treated equal. LUIS
---
"Never again will
one generation
of Veterans
Abandon Another"
---
"New PX Items"
"Military Veteran Wife Award"
An exclusive item that's a little different, but means a lot! Have you ever thought about presenting your wife with a lasting memento that thanks them for "Hanging In There" throughout your service or after?
Even if you were single during your military service, I'm sure your wife shared some of your past, especially War-Time experiences! Now you can thank your wife for her faithfulness over the years with the Veteran Wife Award. The personalized text say's it all!
Although this isn't guaranteed to get you out of the doghouse, an item from the "Heart" should get you a few points. If you haven't mentioned this to her lately, surprising the misses may be right up your alley?
After the Roses wilt, the Award lasts Forever! Various Award Styles Available!
You can personalize your award from the basic design above, with the following substitutes:
Top Bold Line 1: ( War ) : "Your Choice".
Top Bold Line 1: ( Recipient ) : Wife, Partner, Friend, Family, Brother, Sister, Son, Daughter, Soul-Mate.
Paragraph 1, ( Last word "Marriage" ) : Relationship, Friendship, Lives.
Paragraph 2, ( "Experience of War" ): Military Service.
Very Bold Recipient Line: "PRINT Legible/Correctly"!
Next Line: ( "War" ) : "The Military Veterans"
Next Line: ( "Man" ) : Partner, Friend, Brother, Sister, Dad, Soul-Mate.
Other revisions welcome such as for Female Military.
Product:
American Flag paper 8-1/2 X 11, Red/Wte/Blue, W/O Frame. All variations are copyright, with the 15th FA Assoc. as the only entity that may use the design.
15th FA "Members ONLY" Order Info
Send request to David E. Holdorf, 9343 West Capitol Dr., Milwaukee WI. 53222-1534. Include a check for $10.00 each made to: 7TH BN, 15TH ARTY. ORG.
Substitutions as listed above:
Line 1 : ______________ Line 1 : ___________________
Paragraph 1 : ____________________________________
Paragraph 2 : ____________________________________
Recipient : _______________________________________
Next Line : _____________ Next Line: _______________
"Larger Form can be found at our Web Site" milwife.html

Gold Number Pins
Now you can "Personalize" your 15th FA Cap with our High-Quality 1/2 Inch high clutch-back pins.
Sold Only in sets of three ( 3 ), the numbers available are 1, 2, 5, 6, & 7.
The price is $15.00 and includes shipping. Save $3.00 when you purchase with a Baseball Cap!
This item appears on the newsletter dues coupon, just check it off and mail to Mike Donley. Cap shown here also has the Combat Artillery Badge also available from our PX.
See more items at the 15th PX online:
px.html
[Back to newsletter index page] [15th Site Map] [15th Home Page]